The Need for a Good Marketing Plan
During an Economic Downturn
The economic downturn is affecting all areas of life, including veterinary medicine. Everyone is looking for ways to cut costs and you may be tempted to scale back efforts to market your practice in these tough times. However, many marketing experts agree that a bad economic climate is one of the best times to develop and implement a good marketing plan for your practice. According to Harvard Business School professor John Quelch, businesses that increase advertising during a downturn "can improve market share and return on investment."
If you don't have a marketing plan, your first step is to implement one. Begin by establishing your practice's identity—this is, essentially, how you want others to see your practice. Develop a mission statement and create a list of services that make your hospital unique and incorporate that into your identity. Once you've developed an identity that reflects your practice, look at how your identity works with your hospital's logo, website, signage and all the other ways you reach out to clients and the public.
Is your logo dynamic and fresh–looking? Your hospital may be thoroughly modern with the latest technology, but a drab, old–fashioned logo won't leave a lasting impression on new clients. Even something as simple as redesigning your logo and revamping your practice's signage, stationary and letterhead can go a long way toward marketing your practice to new clients. If you don't have a logo, it's time to get one! A well–designed logo effectively and memorably conveys your identity. It builds name recognition, gives you a professional look and adds visual appeal to all your documents and your website.
New brochures can also make an impact on potential clients. If you have a brochure for your practice but haven't updated it in a few years, this may be a good time to do so. Brochures are less expensive than other forms of advertising (such as Yellow Pages ads) and are an effective way to communicate directly with potential clients. High–quality photos, a modern, sleek–looking design and a revamped logo all work together to establish your practice's identity and draw the attention of current and potential clients.
Online newsletters are also a cost–effective way to reach clients. A monthly or quarterly email newsletter can help promote new services or technology at your hospital, inform clients about medical information and spread the word about your practice. The more useful information in your email newsletter, the more likely it is that clients will forward the newsletter to friends–who may become new clients.
A new or redesigned website is an excellent way to get the most marketing bang for your buck. Pet owners are increasingly turning to the internet when looking for a new veterinarian, and a professionally–designed, high–quality website is the best way for your practice to be noticed on the web. A new website is a good way to market your practice in the short term and has many long–term benefits as well. You can update and redesign your website easily to conform to future marketing efforts and clients will be able to find your website quickly.
When business is down, think about increasing—not decreasing—marketing for your veterinary hospital. A solid marketing plan can help your practice weather tough economic times and attract new clients—without having to cut back on the quality care you offer.
The creative minds at VetNetwork have the experience and know–how to develop a complete marketing plan for your practice. We develop professional, modern websites, dynamic logos, engaging brochures and fun, fact–filled newsletters—all essential parts of your marketing plan. Call VetNetwork at 800–564–4215 today to get started. Visit us on the web at vetnetwork.com/.
Fight Back Against Negative
Internet and Website Reviews
You can't please everyone all the time and negative feedback from clients is inevitable. But what happens when those negative reviews are the first thing people see when searching for your hospital's website? Toxic webpages and negative review websites could be the first impression potential clients have of your hospital. Sometimes, these websites may even appear before your hospital's website in search engine results.
How can you repair your online reputation? Targeted search engine optimization efforts are the best way to knock those negative results from the top of the search engine rankings and get your veterinary hospital's website back on top.
First, make sure that your veterinary hospital's website is updated with plenty of fresh content. If you have't updated your website in a while, it may have fallen in the rankings. Search engines prefer websites with updated and new content. If you update you website regularly, it is going to be noticed by Google more often than the stagnant content of a neagtive review site. If you have a blog, make sure that is updated as well.
Secondly, step up link–building efforts for your website. Make sure that your website is listed on (and linked from) your local chamber of commerce website, as well as any professional organizations' websites (state veterinary medical associations, etc.) that you may belong to. If there's something newsworthy or notable going on at your hospital, submit a press release to your local newspaper and community blogs and be sure to include a link to your website. Positive links from reputable websites can help offset negative search results.
If possible, go directly to the source of the negative review. This may be a disgruntled client, a local newspaper, a blog or some other source. If it's from a client, try to work through the problem. Sometimes a disgruntled client just needs to vent their frustrations at someone from the hospital. Often, all it takes is a sympathetic ear. If this doesn't work, ask them to be fair–minded and to post a link to your rebuttal page. Even a link to your rebuttal page may boost traffic to your website and help nudge your hospital's site past the negative website in search results.
More and more pet owners use the internet when looking for a new veterinarian. This makes having a good online reputation more important than ever. VetNetwork and Top Dog Rankings can optimize your veterinary hospital's website search results so your veterinary hospital's first impression online is a good one. Remember, you only get one chance to make a good first impression.
How Your Veterinary Hospital Can Benefit
From Social Networking
MySpace, Facebook, Twitter, LinkedIn—every month, it seems, there's a new social networking website on the internet that everyone is talking about. You may even already be using some of these sites to connect with old friends and classmates. But social networking sites have many applications apart from establishing personal and professional connections. Adding your veterinary hospital to MySpace, Facebook and other social networking services is a fast, easy way to promote your veterinary practice, improve your search engine rankings and connect with clients.
Which Network
Should I Use?
Social networking is all about building connections between friends, co–workers, customers, colleagues, business partners and you. How you build those connections varies depending on which service you use.
MySpace and Facebook:
These are two of the most popular and most well–known social networking sites. There are an estimated 124 million users on Facebook and approximately 246 million users on MySpace.
Facebook

Facebook started out as a networking site for college students but has since opened access to everyone. While anyone can open a personal Facebook account, there are limitations for organizations and companies. Unlike personal accounts, companies and groups cannot actively add other Facebook users to their network—instead, personal users must find a company's page and add it to their own account. Once you have set up your account, you can post photos of your clients and pets, send out invitations for hospital events and start discussions on message boards that are open to all Facebook users. For a small fee, VetNetwork can create your veterinary hospital's Facebook account or you can create your own account at www.facebook.com/advertising/ by selecting "Create Facebook Page".
MySpace
MySpace is open to everyone and members can create fully customizable pages. Bands, artists, businesses and organizations use MySpace and there are no restrictions on who you can contact or add to your network. MySpace allows you to change the layout and design of your page (Facebook does not), as well as post photos, send out invitations and maintain a blog. You can create a MySpace account by going to www.myspace.com.
The demographics for each site vary. MySpace users tend to be younger, with many users signing up as teenagers. Musicians also make up a large faction of MySpace's member base. Facebook tends to attract users in their late–20s and older, as well as business professionals.
VetNetwork can set up your hospital's Facebook or MySpace account.
Call VetNetwork today at 800–564–4215.
Blogging Sites:
Maintaining a blog is an excellent way to stay connected with clients about medical information and hospital events. Sharing a hospital blog with clients is like "pulling back the curtain" and showing your clients what daily life is like at the hospital. There are many free blogging services out there, but some of the best include Blogger (owned by Google), WordPress and TypePad. All you need for set–up is an email address. All three sites have a very user–friendly interface that can guide you through the posting process.
Check out Veterinary Associates of Cape Cod's blog and Advanced Animal Care Center's blog. VetNetwork also has a blog. Visit VetNetwork's blog regularly for new and exciting information.
LinkedIn:

This social networking site is focused on building professional connections for business collaboration, job opportunities and employment searches. A "company directory" feature is still in beta; however, creating a LinkedIn account for yourself is a good way to connect with other veterinarians and scout out potential hospital employees. You can create an account at www.linkedin.com.
Flickr:
A photo–sharing site operated by Yahoo, Flickr lets you upload photos and share them with other users. With Flickr, you can create a slideshow of hospital photos, share a gallery of clients' pet photos and more.
YouTube:
YouTube lets you upload and share videos with other users. Some veterinary hospitals use YouTube to share video tours of their practice, while others use the site to share appearances on local television with clients and friends.
Microblogging and Social Bookmarking:
Other popular social networking sites include Twitter, Digg, Delicious and Reddit. Twitter is a microblogging site—users write short posts, limited to 144 characters. Posts can be about anything, from updates on what you're doing at the veterinary hospital to providing links to interesting articles, photos and more. Digg, Delicious and Reddit are all popular social bookmarking sites, which allow users to read, share and discuss articles, information and photos on the web.
What Do I Do Next?
For many of these services, creating an account takes only a few minutes—long enough to fill in some basic information and add photos. But once you've created an account, what's your next step?
First, flesh out your profile. Put in as much relevant, useful information as you can—your hospital's website address, a list of your services, hospital hours and local areas that you serve. The goal here is to connect with people; therefore, a dynamic, interesting page containing good and relevant content is more likely to attract visitors. On MySpace and Facebook, you can add any number of media, including video clips from YouTube, photo slideshows from Flickr, links to your blog, and more. Maintaining these accounts is easy and frequent updates (about once a week or so) keep visitors coming back to your pages.
Once your profile is set up, start looking for friends. MySpace allows you to search for other users with a variety of parameters, from searches based on geographic location and age to queries based on interests and career fields. Share your MySpace or Facebook pages with clients and encourage them to connect with you. Build up your network by connecting to people in your area, local animal organizations and animal lovers. Join relevant groups on MySpace and Facebook and get involved in discussions about veterinary health and pet–related topics. When you answer questions, make comments and provide useful tips to other users; they will be inclined to visit your page and learn more about your practice.
How Does This Help My Veterinary Hospital?
Search engines increasingly are turning to social networking sites for search results, and the more relevant information you have on your MySpace, Facebook or LinkedIn account, the better your rankings. The higher your search engine ranking, the easier it is for potential clients to find your website, make appointments, and come to your veterinary hospital. Having a social networking presence makes it easier for current clients to recommend your hospital to friends in their own social networks, further increasing potential client opportunities.
Social networking can also be used to strengthen your relationship with clients. Often, your only interaction with clients may be when a pet is seriously ill. Sharing inspiring or funny anecdotes on your blog or candid photos of the staff allows you to connect with clients and build a rapport in a less–stressful, more positive manner. Media outlets are also turning to social networking sites in search of sources for news articles. Maintaining a social networking presence keeps you on reporters' and bloggers' radar—which may result in media coverage of your practice. Because most social networking sites are free, they present an excellent method to easily and inexpensively market your practice.
Social networking is a powerful, inexpensive marketing tool. More people are turning to the Internet when they look for a new veterinarian. An established social networking presence can improve your search engine rankings and present vital information about your practice to scores of potential clients.
Call VetNetwork at 800–564–4215 for more information or to set up your veterinary hospital's social networking site.
Why Your Hospital
Should Have a Blog
These days, just about everyone has a blog, from major celebrities to your Uncle Joe. But does your veterinary hospital? Blogs are a fast, easy way to share important health information, connect with your clients and market your veterinary hospital's services. Here are a few ways your veterinary hospital can benefit from a blog:
Client Education: If you've recently seen a number of Kennel Cough, Leptospirosis, Feline Calicivirus or Parvovirus cases, a blog post is an excellent opportunity to educate clients about prevention and treatment. Posting in–depth medical information (that you may not have time to share during an appointment), including a list of symptoms, is beneficial to your clients and can help boost vaccination compliance and the need for frequent examinations.
Promote Your Services: If you're offering a new service or have recently purchased a new instrument (ultrasound, endoscopy) that you are eager to show off, promoting it on your blog can get clients' and potential clients' attention. You need to explain how their pets can benefit from your new services. Clients can't utilize these services if they don't know about them.
Continuing Education: Your clients can recognize your commitment to their pets' health when you post continuing education conferences and courses that you and your staff members attend. List some of the interesting lectures that you have attended and a few facts about each.
Have Fun: Often, clients may only see you when their pet is seriously ill. Your blog can show them your lighter side—share funny pet stories or anecdotes about the brighter side of veterinary medicine. Post candid shots of the hospital staff or share photos of your own pets with your clients.
Personal and Hospital Information: Weddings, birth announcements, milestone anniversaries and the arrival of new pets add a personal touch to your relationship with your clients.
Increase Search Engine Rankings: Blogs have the added benefit of increasing your hospital website's search engine rankings. The greater your hospital's presence on the internet, the more often your website is picked up by Google, Yahoo and other search engines, making it easier for potential clients to discover your hospital.
Starting a blog is easier than you think. Blogger, TypePad and WordPress are all free blogging services that require minimal set–up. Within minutes, you can have a customized blog and start posting photos, articles, links, videos and other interesting information. If you already have a website, VetNetwork can integrate your new blog with your existing site. If you do not have the time to setup and manage a blog, VetNetwork can help. Please call VetNetwork today at 800–564–4215 for more information about creating a blog or adding your blog to your website.
Visit VetNetwork's blog regularly for new and exciting information.
Buying a Digital Camera
for Your Veterinary Hospital
Whether you need to take photos of your hospital for your website or simply want to snap some pictures of clients and their pets, a digital camera is a useful tool to have at your veterinary hospital. The good news is that as technology improves, most cameras are decreasing in price while boasting better technical specifications and more features. However, this means there are hundreds of cameras to choose from and finding a camera that best fits your needs can be a difficult process.
Before zeroing in on a particular brand or camera that has caught your eye, take a moment and consider how you'll be using the camera. Some cameras are suited more for semi–professional photographers and gadget geeks, while others are geared toward more casual use. And while it may seem as though a higher–priced camera may take better photos, this is not always the case. Buying guides at www.cnet.com and Consumer Reports can provide side–by–side price comparisons and websites like www.pricegrabber.com and www.beatmyprice.com can help you find the best deals on cameras.
If you're looking to take photos for your website, for print advertisements, or to print out for clients (at a size greater than 4x6), a higher–end point–and–shoot camera can best fit your needs. Look for cameras with a resolution of 8 to 9 megapixels or greater, more exposure control options (aperture and shutter speed, for example) and higher zoom ranges. These cameras generally range in price from $200 to $600, depending on the features and specifications. Most point–and–shoot cameras come with standard features like direct–to–printer output capability (allowing you to print photos directly from the camera without transferring to a computer), in–camera red–eye removal, face detection and video recording capability. What features you choose depend on how much you want to spend. Ease of use is also an important consideration, as several hospital staff members may be involved in taking photos. For gadget geeks, cameras with voice recording, Wi–Fi capabilities, face detection, touch–screen displays and other features are available.
The Canon PowerShot G9
is a good choice for a higher–end camera that packs in a lot of features but still remains affordable. The G9 has a resolution of 12.1 megapixels and a 4x digital zoom. It features multiple exposure modes (aperture–priority, automatic, shutter priority, program and manual) and a quick 2.3 second gap between shots (when using the flash). It can also shoot video in AVI format and uses optical stabilization to prevent blurry pictures. The G9 also offers manual ISO settings (for shooting in low light) up to 1,600. The G9 ranges in price from $450 to $579.
The Sony Cyber–shot DSC–H50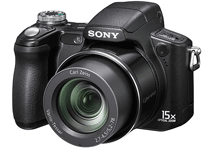 is another camera that combines the ease of use of most point–and–shoots with the image quality of a digital SLR. It features a 9.1 megapixel resolution and 2x zoom, which can also be used when shooting video. The camera uses Sony's Super SteadyShot stabilization feature for producing sharper pictures. Its tilting LCD display provides greater freedom when setting up shots at low and high angles. The camera also features an ISO boost (for shooting in low–light settings), an Advanced Sports Shooting mode for action shots and an extremely simple "Easy mode," should you need to hand the camera over to a complete novice. The DSC–H50 ranges in price from $300 to $417.
At the higher end of the digital camera spectrum are digital SLR (single lens reflex) cameras. Digital SLRs are suited for avid photographers—either amateur shutterbugs who are serious about their hobby or professional shooters. These cameras give you more control over your images and are compatible with a wide range of interchangeable lenses. Prices for dSLRs start around $600, usually for the body of the camera only. Lenses and accessories cost extra.
The Nikon D80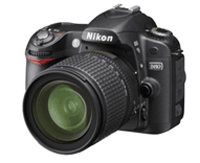 is a good entry–level dSLR for those making the leap from standard point–and–shoot cameras. The D80 features 10 megapixels of resolution and ISO up to 1,600. It comes with built in shooting programs (for portrait, landscape, sports mode and so on) and the layout of the buttons on the camera and the menu system make it easy to adjust exposure, aperture and shutter speed settings. The D80 also features a retouch menu that allows you to edit photos in the camera. You can resize, crop, add effects, reduce red–eye and even overlay images on top of one another, all within the camera. Any time you edit an image in camera, a new copy of the photo is saved, so you can go back to the original. The D80 costs about $630.
The Sony Alpha DSLR–A700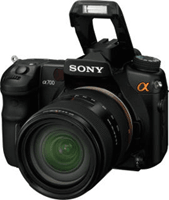 is a step up from the Nikon D80. A mid–range dSLR, the Sony Alpha offers enhanced picture quality over basic dSLRs at an affordable price. The Alpha is available in a number of kits and you can purchase the body of the camera only or opt for a kit that includes an 18mm–70mm lens. The camera's settings are controlled through direct–access buttons and the LCD display, and shutter speed, aperture and exposure are all controlled with dials on the camera. The built–in image stabilizer and higher resolution (12.24 megapixels) result in sharp, high–quality images and the camera performs well under low–light settings. The Sony Alpha DSLR–A700 ranges in price from $1,169 to $1,399.
A digital camera can be a useful addition to your veterinary practice. Before buying, consider carefully what kind of photos you will take, how often you will use the camera and how much you're willing to spend.
VetNetwork reviews a new technology product in each newsletter. In the next newsletter, we plan to review laptop computers. All our reviews are based on the specific needs of veterinarians and veterinary hospitals. If you do not receive our newsletter on a regular basis, you can find them on our blog.
Visit VetNetwork's Blog for all archived articles.
Cats
This month in Cat Fancy Magazine, your clients are reading about kidney transplants and hyperthyroidism. If you are not familiar with the medical articles in Cat Fancy, they are usually based around an actual medical case. Through the article, you get personally involved with the cat, the owner and the staff at the veterinary hospital.
Kidney Transplant Story—This is the story of Milo, a cat diagnosed with renal failure and taken to University of Wisconsin School of Veterinary Medicine for a kidney transplant.
In 2005, Milo was diagnosed with kidney disease and had her first kidney transplant one month after her diagnosis. Before surgery, the donor and recipient were cross–matched to ensure that their blood types were compatible. Unfortunately, a few days after the surgery, Milo's body rejected the kidney. One month after the failed transplant, the owners decided to try again. The second surgery was a success and Milo has been doing well ever since.
The total bill for both surgeries was $30,000. In order to prevent rejection, Milo receives immunosuppressants twice a day. The cost for the medication is $1,100 per year.
"The best thing I've ever done with any money is to save Milo's life," said Milo's owner.
Hyperthyroidism—This article discusses the plight of Maggie, a tabby cat living in Massachusetts diagnosed with hyperthyroidism.
The article lists Maggie's classic symptoms (huge appetite and alarming weight loss) and discusses the pathology of the disease. Possible causes of feline hyperthyroidism are mentioned: ingestion of plants as part of a cat's diet, flame retardants and plasticizers. The article also states that to date, no compounds have been unequivocally linked to hyperthyroidism in cats.
The three treatment options for feline hyperthyroidism are discussed: drugs, surgery, and radioiodine therapy. Radioiodine is mentioned as the therapy that most veterinarians consider the best. The article goes on to review the advantages and disadvantages of the three treatment options.
Dogs
This month, Dog Fancy Magazine reports on DNA Testing to "reveal your mutt's breed composition." There is also an interesting article about colleges that are opening their doors to students with pets.
Colleges Opening their Doors to Pets—As enrollment figures are starting to drop, many colleges are welcoming pets. Administrators at Stevens College in Columbia, MO and State University of New York at Canton have seen enrollments increase and emotional problems, often associated with students leaving home for the first time, decrease since allowing pets on campus.
A survey of 1,400 colleges lists allergies and irresponsible students as the two main reasons for not allowing pets. Other objections include mess, noise, disease, biting, roommate issues and pet abandonment.
Schools that allow pets solve these problems by reserving a dorm wing for students with pets. A deposit covers damages and cleaning costs. All schools require current veterinary records and waivers of liability.
For more information visit:
www.stephens.edu/campuslife/housing
www.eckerd.edu/housing/index.php?f=pets06
web.mit.edu/dormcon/pets
DNA Testing for Your Mutt—A simple test now can reveal your dog's breed composition. These DNA–based tests were originally developed to study the basis of human diseases and became available for dogs in 2007.
Two tests are available to dog owners. One test requires the owner to collect their dog's DNA using a cheek swab. The other is a blood test performed by a participating veterinarian who delivers the results to the owner.
The results of the DNA tests provide the owner with the breed make–up of their dog. Besides being fun to know, owners can better understand the personality of their dogs and screen for potential diseases associated with particular breeds.
For more information visit:
www.dog-dna.com
www.wisdompanel.com

Help Clients Finance Pet Care
Costs are rising in all areas of health care—including veterinary medicine. Keeping costs low enough for clients to afford—but not so low that you're losing money and harming your practice—is an ongoing issue that all veterinarians face. But sometimes, even modestly–priced procedures can be difficult for a cash–strapped client to afford. Many veterinary hospitals now offer patient financing options through CareCredit and other providers.
These services act a lot like credit cards, except they can only be used to pay for health care services (CareCredit, for example, can be used for both human and veterinary medical care).
In most cases, the services work like this: once you sign up as a provider for a particular service, you can begin accepting payments from clients using that service's card. When a client pays for a treatment using the financing service, he or she works with you to set up a payment plan. Once the transaction is complete, you receive full payment from the financing provider (less a small merchant fee, similar to the one you pay when processing credit and debit payments) within a few business days; meanwhile, your client begins making monthly payments to the provider.
There are many reasons to offer these financing options to clients. Using CareCredit, or a similar service, is a good middle ground between requiring clients to pay treatment costs in full right away (which they might not be able to afford) and potentially losing money when funding patient financing yourself. Giving clients payment options helps them make treatment decisions based more on health care concerns than on their ability to pay. That sort of flexibility inspires client loyalty and lets you focus squarely on providing the medical care.
When it comes to selecting a financing provider, you have just as many choices as your clients. CareCredit, a subsidiary of GM Money, was one of the first companies to offer veterinary care financing. Since then, Wells Fargo, Chase and Citibank have all rolled out veterinary health care financing services.
Choosing a financing service for your practice depends largely on what sort of payment options you want to offer clients. Each service offers a wide range of no– and low–interest payment plans for your clients. With some services, such as CareCredit, you can select which payment plans your practice offers. Interest rates vary, though most services offer no–interest financing on some payment plans. For example, CareCredit offers no–interest payment plans for 3 to 18–month plans and 11.9 percent interest on 24 to 60–month payment plans. The Chase Health Advance program offers a similar plan, as does the Wells Fargo Health Advantage card. The Citi Health Card offers no–interest payment plans for treatments under $1,000, and a "budget payment plan" at 12.96 interest for treatments over $1,000.
Treatment financing options can benefit your practice as well as your clients. Payment plans make decisions about costly treatments easier for clients to make. That sort of flexibility will keep clients coming back to your practice.
VetNetwork's Services
VetNetwork is a marketing and design company exclusively for veterinary hospitals. Our services and products are guaranteed to increase your profits and attract new clients.
Website Creation and Redesign
It is a proven fact that having a professional, well–maintained and informative website increases revenue. A strong website is a powerful tool for attracting new clients and maintaining the interest of established clients. Revenue generated from a website created by VetNetwork is guaranteed to exceed your expectations.
Your website needs to make a favorable impression all the time. If your website is old and obsolete, clients and future clients move on to a better veterinary hospital website. Since your website reflects your hospital and the medicine you practice, it needs to have a modern and professional appearance.
Contact VetNetwork for a new website or if your old website needs updating. You can view our website portfolio at: http://vetnetwork.com/portfolio_websites.php
Brochure Creation
An attractive, interesting and well–designed brochure is an easy way to provide your clients with important information at a glance. A brochure is a necessity for promoting your services to new clients. Since you need a brochure, why not have the best? View our brochure portfolio at: http://vetnetwork.com/portfolio_brochures.php.
Logo Design
Your logo establishes your unique visual identity. It needs to be eye–catching but simple, something people can easily recognize and remember. Your logo needs to be as good as or better than your competitors' logo. VetNetwork specializes in designing effective, high–impact logos for veterinary hospitals. Some logos that we have created can be seen at: http://vetnetwork.com/portfolio_logos.php.
Search Engine Optimization
The staff at VetNetwork has years of experience working with Google, Yahoo and other search engines and knows how to increase your Google and search engine rankings. Using keywords and search terms tailored for your site and links to other websites in your area, we can increase your search engine rankings and make sure potential clients can find you quickly and easily.
VetNetwork can increase your Google and search engine rankings! Visit Top Dog Rankings, VetNetwork's search engine optimization website, to see how we can help.
Email Newsletters
VetNetwork can send newsletters to your clients on a monthly, bimonthly, quarterly or semiannual basis. If you don't have the time to write your own articles, the creative staff at VetNetwork can do that for you. Just send us your client email list and we can get a beautiful, professional, interesting and well–written newsletter to your clients on a regular basis. If you like the newsletter that you are currently reading, you are going to love the newsletter that we can send to your clients. Can it get any easier? Call VetNetwork for details.
Other Online Marketing Items
Adding your veterinary hospital to MySpace, Facebook and other social networking services is a fast, easy way to promote your veterinary practice, improve your search engine rankings and connect with clients. For a very reasonable fee, VetNetwork can setup your MySpace or Facebook account and/or create your hospital blog. Once your account is set up, updating and maintaining it is extremely easy. You can visit a hospital's blog at : http://capecodvets.blogspot.com.
At VetNetwork, we do it all for you. It's that easy. We look forward to helping you increase your revenue and expand your client base.
Best wishes for a happy and healthy new year.
Sincerely yours,
Mark Feltz, DVM and the Staff at VetNetwork
800–564–4215
vetnetwork.com/
Copyright © VetNetwork