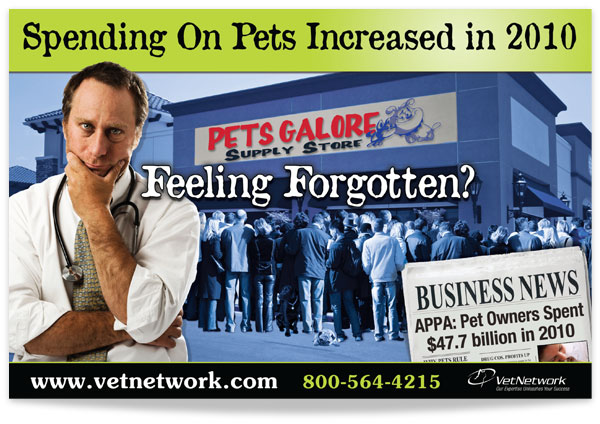 Spending on Pets Increases by Nearly 10 percent
According to data collected by the American Pet Products Association (APPA), even as other areas of the economy struggle, spending on pets has increased by nearly 10 percent in 2010 as compared to 2008.
The report by the APPA showed the following:
Nine percent increase from 2008 to $47.7 billion in 2010.

Spending in 2010 has nearly doubled what people spent in 2000.

Of the total, veterinary care and related services and supplies account for $27.2 billion.

The average pet owner has spent about $1,500 on a dog and $1,000 on a cat in 2010.
What This Means for You
Pet owners are spending more money each year on their pets, which creates new opportunities for veterinarians willing to take the time to properly market their practice. A professionally designed veterinarian website, brochure, email and direct mail strategies go a long way toward increasing practice income.
However, many veterinarians fall short on their veterinary marketing efforts. This is why hiring a veterinary marketing specialist such as VetNetwork is critical to leveraging a share of the billions being spent by pet owners. This type of service represents a small investment compared to the return you receive. It also allows you to focus on providing services to all of your new clients and their pets.
To read the rest of the article and to learn more about the latest in veterinary practice marketing and pet trends, visit VetNetwork's blog.