Protect Your Veterinary Hospital's Internet Image and Online Reputation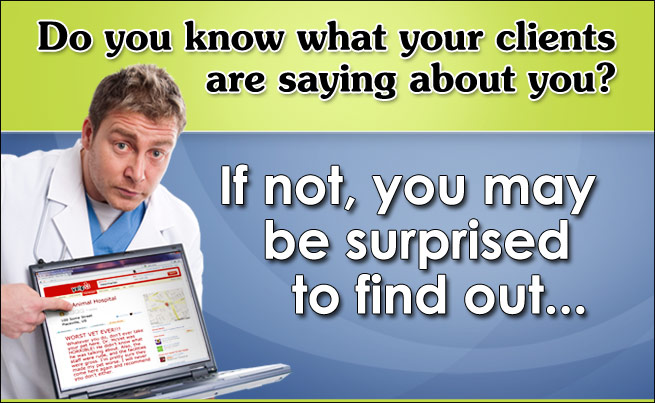 With Facebook, Twitter, LinkedIn and other online platforms surging across the world, there's no question that you have to be connected. This increased connectedness means increased exposure that can greatly enhance, or quite frankly ruin, your veterinary practice's reputation.
You've been managing your real-time veterinary reputation all along. This internet matter, however, is less familiar. And yet, your Internet reputation carries a tremendous amount of weight.
It's not just your behavior on display via the worldwide web. An employee's conduct during an exam may not matter at all, for instance, if a client has seen a photo of this person half-naked, partying with friends on Facebook. As a matter of fact, that photo may be the only thing your client ever remembers about the employee at hand. Although you've heard it before, this bears repeating: Facebook pages should be private if you don't want clients peeking into your social life. Likewise with other platforms.
When a "friend" may be someone you encountered once on a trip; a person from 20 years back whose name you barely remember; or someone you've never even met, what really is at stake?
Critical to understanding connectedness and its impact on your online reputation is the notion that your "friends" also have "friends." Who are these fast-accumulating friends? Potential clients and business associates, of course.
Do you see how your network expands to areas of life that you never imagined?
There is an upside to this increased exposure: It creates opportunities. If well-managed, your Internet presence can be used to create, even leverage, your veterinary hospital's online reputation.
The internet world revolves around Google. That's where the vast majority of people begin research. Need to find a local veterinary surgeon? Google it. Need a veterinary hospital that offers chemotherapy? Google it. Want to know symptoms of canine flu? Google it.
You get the picture. "Googling" has become a verb of its own and you should be getting everything you can from this powerful search engine. Whether you own a large veterinary referral hospital or own a small local clinic, you want your practice ranked high on Google.
You should use Google to stay aware of what is being said about you on the internet, too. Google your practice's, name to understand your online veterinary reputation. See what people are saying on Yelp, Dexknows, and other message boards. Reading these comments may make you anxious, but there are steps you can take to mitigate negativity and repair a damaged veterinary online reputation.
A negative image can define your professional narrative and last for a very long time. If your internet image is less than spotless, clients may search elsewhere for veterinary services.
That's what you don't want. And that's where VetNetwork comes in. VetNetwork has the online reputation management staff, tools and experience to manage your online image and reputation, and for less money that you may think.
You wouldn't hang a sign on your door directing clients to your competition. With a call to VetNetwork, you can also ensure that you're not making an equally detrimental statement on the worldwide web.

---