Is Your Social Media Bringing In New Clients?
Dear friends and colleagues,
Social media can be overwhelming. Rather than racking your brain for the most effective means of boosting business via Facebook, Twitter, Pinterest, LinkedIn, and the seemingly endless list of social media platforms, take a load off of your shoulders. Outsource the task to knowledgeable professionals who specialize in veterinary marketing and start seeing results!
 
Begin 2016 strong with a social media program geared toward increasing traffic to your website and through your practice doors. For a minimal monthly cost, we'll maintain your social media sites and help build your veterinary brand. We're even adding an extra incentive for a limited time only – ONE MONTH FOR FREE WITH NO RISKS OR OBLIGATION. Read on to discover why outsourcing to the right company is the best and most cost-effective solution.

Thank you.
Mark
Mark Feltz, DVM, Owner
VetNetwork, LLC
603-743-4321
If you like our newsletter, please "LIKE" our page on Facebook...
---
Veterinary Social Media Management 
Ain't Nobody Got Time for Dat!
Social media is an increasingly powerful veterinary marketing tool for promoting the unique benefits that you and your veterinary hospital offer. When done correctly, social media postings can increase local awareness of your practice, boost business, and build client loyalty. However, managing the many and ever-changing social media platforms takes time and experienced know-how.
 
It is for this reason that many veterinarians have come to understand the value of outsourcing the task to a reputable and industry-specific social media management firm.
 
Divide and Conquer  
Keeping up with Facebook, Twitter, Pinterest, Google+, LinkedIn and the growing list of social media platforms on your own isn't feasible. You have a practice to run and patients to treat. Adding a dedicated social media staff member might work, but you'd be overpaying.
 
It takes a midsize hospital about 32 hours a month to effectively manage one social media platform, according to an article in Forbes. It won't be easy to find a qualified person willing to work only a few hours per day or a current staff member who can spare that kind of time. Employing a dedicated in-house social media consultant most often equates to paying for more time than is needed for the job. For the cost, you can't beat outsourcing.
 
Plus, you'll still be able to manage aspects of your social media presence, such as responding to comments and posting daily patient photos, deals and even appointment openings. Eve Mayer, author of "The Social Media Business Equation," has said the companies that profit most from social media communications are those that have both internal and external people doing the work.
 
Show Me the Benefits of Outsourcing
It covers everything – Social media management isn't just about posting. It encompasses content strategy, development of brand awareness, and generation of traffic to your website (and hospital). 
It's reliable – When social media management is kept entirely in-house, it can be on point one week and severely lacking the next. Out-sourcing to a reputable company offers reliability and the assurance that your online marketing strategy will remain strong and consistent. 
It means you don't have to create all that content – Posts can be fun pictures or short blurbs from time to time, but serious posts are required on a regular basis. This involves research, writing, editing, and accompanying photos or video. Then there's the formatting, posting, and monitoring of engagement and effectiveness. 
Choose a Company with Experience in Your Industry 
Don't waste money on an in-house social media manager who will spend more time watching funny pet videos on Facebook than doing his or her job. A high number of "Likes" or page visits doesn't necessarily equate to success. Visitor engagement and conversion to website visits that lead to hospital appointments should be the ultimate goal of your social media program.

Managing your social media in a way that will produce these positive results takes more than experience with social media. Investing in an industry-specific social media management firm will ensure you get the most bang for your buck. They have the unique insight into what veterinarians and their clients want and can devise a social media marketing strategy to meet those needs.

Hands-on hospital ownership experience combined with a team of creative and knowledgeable marketing professionals is what keeps VetNetwork ahead of its competitors. We are dedicated to the development of complete marketing strategies for veterinary hospitals - nothing else. We offer a comprehensive array of veterinary social media marketing services customized to you and your practice's goals and needs.

Make your veterinary social media strategy profitable! Call us today at (800) 564-4215 to take advantage of a limited time special offer and one month free trial. What do you have to lose?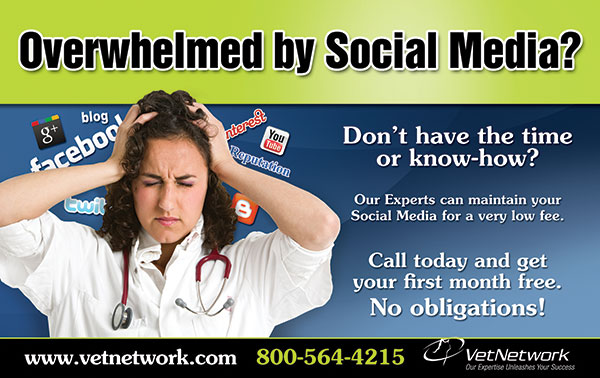 ---
VetNetwork Services
VetNetwork is owned and operated by a veterinarian with 20 years of hospital ownership experience, and is staffed with a team of veterinary marketing experts who are dedicated to growing your practice. For more information about reputation management and growing your business, please give us call at (800) 564-4215 or send us an email today.
Read More...
Sincerely yours,
Mark Feltz, DVM and the Staff at VetNetwork
603-743-4321
Contact Us