Managing Online Bomb Throwers on Yelp
There is nothing worse than an online bomb thrower ruining the brand and reputation of your veterinary hospital on Yelp from the anonymity and comfort of their home.
While most reviews may be benign or favorable, we all know that the frustrated customers are the most likely to complain. We all also know that we are not perfect. Research has shown that complaints on veterinary hospital review sites like Yelp fall within four categories: overcharging, rude staff, poor medical outcome and long wait times for appointments.
So what can you do?
Do not write fake reviews – Fighting fire with fire is a bad idea and may even break the law. In 2013, the New York Attorney General's office ran an undercover investigation of companies that offered fake reviews and found that nineteen violated laws against false advertising and deceptive business practices. In all, they levied $350,000 in fines.
However, it is more than okay and recommended to encourage happy customers to support your hospital by writing positive reviews.
Can't beat 'em, join 'em – Businesses can be listed on the site for free and can also pay a monthly subscription fee, which allows you to advertise on Yelp. You can even have a sponsored ad appear on a competitor's review page. According to a story on AVMA.org, one veterinarian said they get sixty-five views and fifteen new clients a month from Yelp.
Respond – Use this as a brand-building opportunity. If a client complains about price, be transparent about your fees and offer tips for reducing costs such as prevention, act quickly if their pet's habits change, offer a phone triage service, and give guidance on insurance and payment options. If the issue is poor service, admit when you've made a mistake and always respond with steps taken to correct the issue. Basically, show them that you truly care and are human and humane.
Fraudulent Review – Fraud and threats to staff are taken seriously by Yelp because it compromises their brand and integrity. Contact them and ask to have the review removed and site your reasons. You can do this by clicking on the flag icon on Yelp and following the prompts.
VetNetwork can also be your ally. We'll monitor Yelp and many other popular review sites, analyze the conversations, and mitigate the impact of negative reviews. Call or check out our website for the Reputation Management Progam that is best suited for you.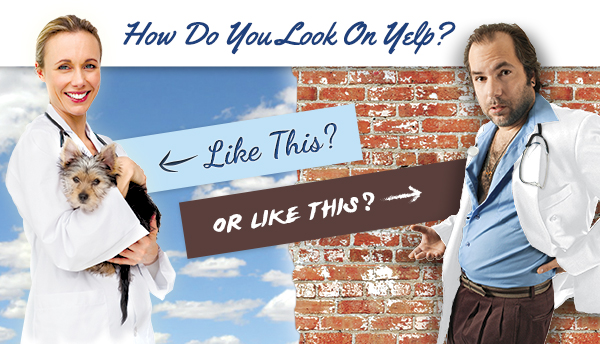 ---