Before pet owners call or walk through your door, they are first going to look at your website.
The Internet is the primary source of information for millions of people, and pet owners looking for a veterinarian are no exception. Your veterinary hospital's website is the first, and often only, chance you have to show prospective clients who you are, the services you offer, and why they should choose your practice for the care of their pets.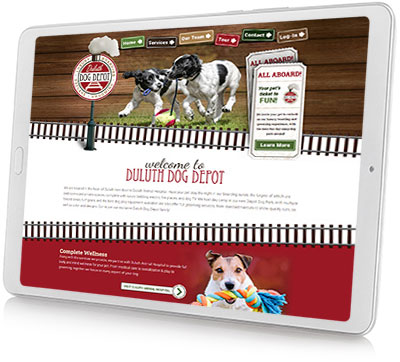 Telling Your Story
Before pet owners call or walk through your door, they are first going to look at your website. What are they going to see? Are they going to be impressed, or are they going to be disappointed? Since you only get one chance to make a good first impression, your website needs to be exceptional. Your veterinary website should reflect the same welcoming, confident impression that you aim to give new clients when they walk through your door.
Attracting New Clients
VetNetwork's professional web designers create high-quality, customized veterinary sites that are handsomely designed, easily navigated, and express your practice's unique personality. The result is a powerful veterinary branding/marketing tool for you and a valuable resource for both your current and potential clients.
Building Relationships
Your website begins building relationships even before pet owners walk through your door. Many of our clients have reported three to five new clients per week and significant revenue increases as a direct result of their websites.
Staying Connected with Your Veterinary Clients
Publishing your veterinary website is a very important first step, but keeping the content relevant and fresh significantly enhances its value. Your priority is running your practice, which leaves you with little or no time to update your website. Don't delegate this important part of your marketing strategy to an employee whose talents are probably best used elsewhere. For a nominal monthly fee, our veterinary marketing professionals can keep your website interesting and current with newsletters, articles, blog entries, and hospital updates.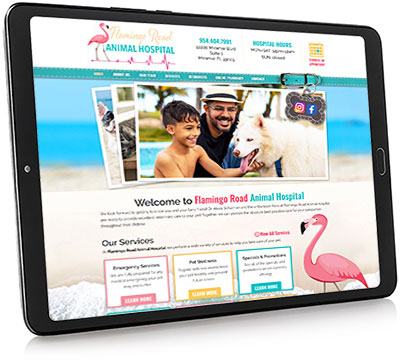 Does Your Present Veterinary Hospital Website Make A Great First Impression?
The Internet is the first place people go to look for everything; from a plumber for their home to a veterinarian for their pets. This means your website is a pet owner's first impression of your veterinary hospital and the quality of care and services you offer. Are you making a great first impression?
If you already have a website and are unsure of the image it conveys, your website is not making a good first impression. It also means your hospital's website is a wasted investment, or at the very least, a missed opportunity. A poor website can be detrimental to your business by driving clients to competitors. Learn more about the importance of custom veterinary website design.
Questions to Ask Yourself About Your Website
Does your website accurately and positively reflect your hospital and the compassionate and quality services you offer?
Does your website drive new clients to your hospital or to the phone to inquire about your services?
Is your hospital's website listed high in Google searches?
If the answer is NO to any of these questions, you have an ineffective veterinary website that isn't doing anything to help your practice.
Realize Your Results - Call VetNetwork Today
VetNetwork knows how to create veterinary hospital websites better than any other company. Together we can take your veterinary marketing to the next level and help you realize greater results and profits. For more information about a custom website for your veterinary practice, please give us a call at 800-564-4215 or contact us online today. A phone call to us means results for you.
View our portfolio of Veterinary Hospital Websites.
Not ranking high in Google? Take a look at our veterinary search engine optimization plans.