Your Business Card Speaks Volumes About You and Your Practice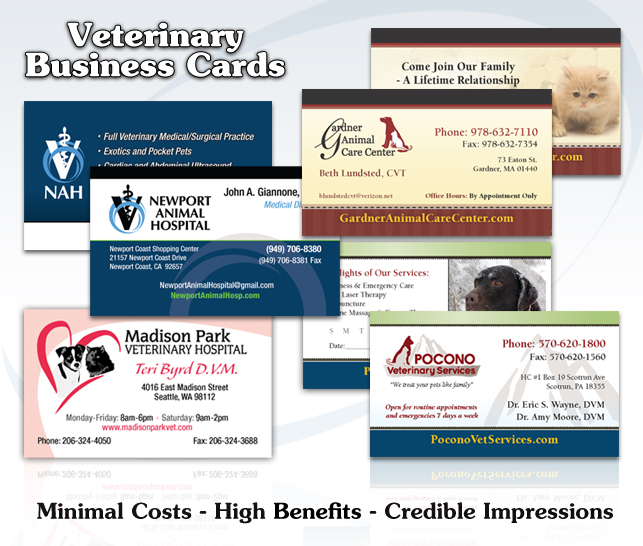 Your veterinary hospital's business card can speak volumes about you and your veterinary practice. With minimal costs and high benefits, this simple tool can perform an important PR function that will pique the interest of future clients. Even in the digital age, a well-designed veterinary business card remains an incredibly important component of any hospital's branding and marketing toolkit.
Pet owners have many choices when it comes to choosing a veterinary hospital. Therefore, you need to always go that extra mile to convince them that your hospital is superior to all the others.
The advantages of having a great business card are:
• Inexpensive, non-aggressive advertising
• An easy, painless networking tool
• A simple, credible first-impression for local pet owners
According to John Williams of "Entrepreneur" magazine, business cards play a key role in forming a potential client's first impression. A business card reveals not only how much pride you take in your profession and your work, but may also communicate the benefits of your hospital – all in a matter of seconds. This first impression then turns into lasting impression each time a client or pet owner sees your card.
It's important to understand what your business card is capable of saying about you and your practice, and how you can best display this in a three-inch paper platform. Knowing precisely what to communicate, and the methods of best displaying it, however, is no easy task.
In only a few words and symbols, you should communicate that you, your staff and your veterinary practice are:
• Credible
• Qualified
• Provide beneficial services to pet owners and clients
• Dependable
• Unique (going further than your competition)
Conveying these appropriate traits is accomplished through:
• Applicable contact information and credentials
• Impressionable images, symbols or logos
• Well-crafted text and/or tag-line
These elements must all fit together to create a lasting image of your hospital and the care and benefits you provide to pets and pet-owners alike.
The veterinary marketing and design team at VetNetwork can help you create an effective veterinary business card that meets your budget and your needs. Remember, when executed correctly, a business card can serve as a powerful branding and advertising weapon.
Leave it to the creative professionals at VetNetwork to ensure that your veterinary marketing needs get the care and attention they deserve.

---