Helping you grow connections because we're committed to your success.
VetNetwork is a full-service veterinary marketing company dedicated exclusively to helping veterinarians grow their hospitals and increase revenue. By utilizing the skill of our creative, dedicated team of veterinary marketing professionals, we're uniquely positioned to provide you with custom websites, brochures, logos, and other products that strengthen your reputation as a trusted, expert source for veterinary care in your community. Our services keep you connected to local pet owners and drive new clients into your hospital.
Since 2002, we've based our business on one simple goal: passionately providing veterinary hospitals with a reliable, trusted marketing partner. In everything we do, the VetNetwork team seeks to dedicate ourselves to building long-term relationships that help veterinarians like you achieve your business goals.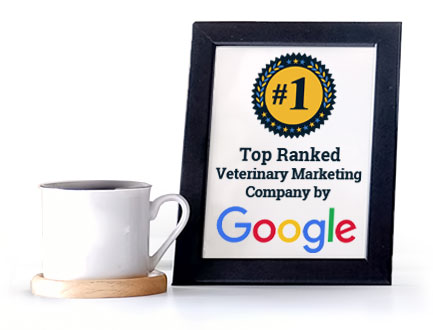 The VetNetwork Difference
At VetNetwork, we have over a decade of experience in helping our clients grow their practice through proven, cutting-edge marketing solutions. We'll help you identify the strategy and tools necessary to achieve your veterinary hospital's growth goals by promoting the benefits of your services. Promoting the unique character of your business, your staff, and the care you provide to pet owners in your community will aid you in growing your client base, retaining long-term customers, and increasing your revenue.
The VetNetwork team knows what it takes to reach your goals: That's how we became Google's No. 1-ranked, full-service marketing company for veterinary professionals.
VetNetwork provides veterinary marketing solutions with expert insight in the following areas:
No matter what your budget, we provide you with the best veterinary marketing solution to accomplish your goals. Please review the sections of our website, then call at 800-564-4215 today or contact us online. A phone call to us means results for you.