Keep your practice and your hospital services fresh in the minds of your clients.
How does an email newsletter work for you? Something like this: By sending your clients and prospective clients a regular veterinary email newsletter, you keep your practice and your hospital services fresh in their minds. So, the next time they need any kind of veterinary service, they think of you first. In fact, as they continue to receive your hospital's email newsletter, they think of you as the only hospital for veterinary services.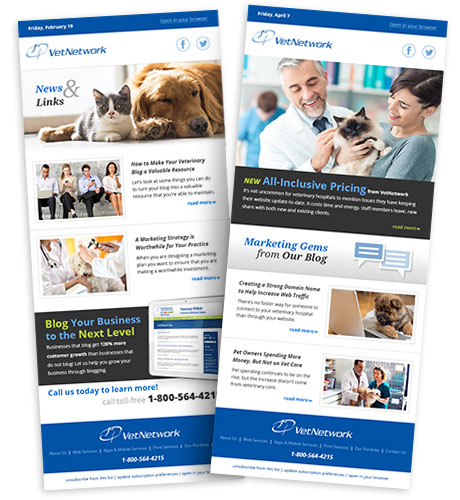 Benefits of a Veterinary Email Newsletter
Inexpensive client communication tool
Drive pet owners to your website and your hospital
Attract new clients who have pets
Build a bond with your hospital clients
Provide hospital news and updates to all pet owners
Best results when combined with direct mail
Call VetNetwork to Get Started on your Email Marketing Campaign
The creative staff at VetNetwork has the knowledge and technology to manage all aspects of your veterinary hospital's email newsletter. VetNetwork can design your newsletter, write your articles, and send it to your database of subscribers. We can also create a sign-up box on your homepage so website visitors can also receive your newsletter.
VetNetwork can help recommend the most relevant veterinary hospital domain names for your practice, given your professional specialties and geographic region, and assist you in purchasing them quickly. We also feature a number of effective, desirable veterinary hospital domain names for sale. These veterinary domain names include the most frequent search terms pet owners would use when searching for a veterinary hospital in your area. Whether you're a downtown vet or a veterinary surgeon, we have a variety of exceedingly attractive domain name options that can help your practice expand its reach online.
Why wait any longer to send out your veterinary practice newsletter? It's so easy when you partner with VetNetwork. Call us at 800-564-4215 or contact us online today to learn more!