An effective veterinary logo is simple, dynamic, enduring, and, most importantly, memorable.
What is a Logo? A logo is a graphic symbol of your veterinary hospital. An effective veterinary logo is simple, dynamic, enduring, and, most importantly, memorable. It captures your singular identity and, with a single glance, evokes meaningful feelings and beliefs about your veterinary practice that resonate with your clients.
What Can a Logo Do for Your Veterinary Hospital?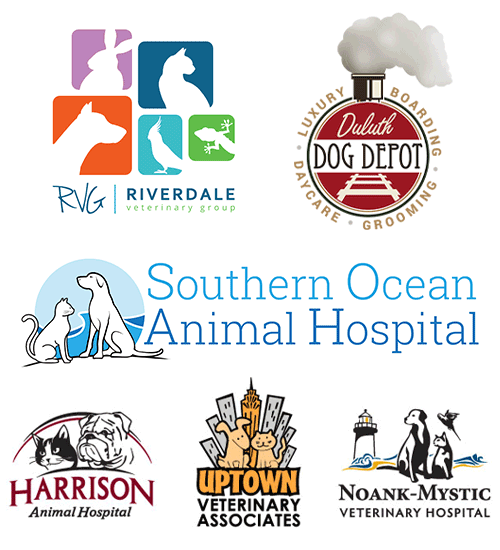 Your logo works for you 24 hours a day, 7 days a week and is the most powerful and visible symbol of your veterinary hospital.
Your veterinary hospital logo:
Establishes your identity
Anchors your brand
Builds name recognition
Enhances trust
Your logo is an integral part of your hospital's overall veterinary marketing success. For that reason, choosing your hospital's logo is an important decision and should be the first marketing tool you purchase. Your recognizable logo should be displayed on everything representing your veterinary hospital: signage, website, social media, brochures, business cards, stationery, emails, and press releases.
Your Veterinary Hospital's Logo Design
Designing a successful logo requires a clear understanding of both your specific approach to pet care and as well as your clients' needs and wants. At VetNetwork, our professional, in-house graphic design team, under the guidance of a veterinarian with 25 years of hospital ownership experience, has special insight and appreciation for the services you provide and understands the important relationship you have with pet owners and their companions.
Since the company was founded in 2002, we have designed over 100 veterinary hospital logos for hospitals that played a fundamental role in differentiating them from their competitors and building an identity that helped their practices thrive.
Call VetNetwork at 800-564-4215 or contact us online to create a dynamic and compelling logo and start building your veterinary hospital's unique brand identity today.
View our portfolio of Veterinarian Logos.
Need veterinary branding help? We can help create and manage a full online and/or print veterinary hospital marketing campaign.