VetNetwork Success Stories
Come See What We Can Do For Your Veterinary Practice
The entire team at VetNetwork is dedicated to providing what you need to achieve real results and revenue growth. Just ask a few of our satisfied clients what a partnership with VetNetwork can mean for you.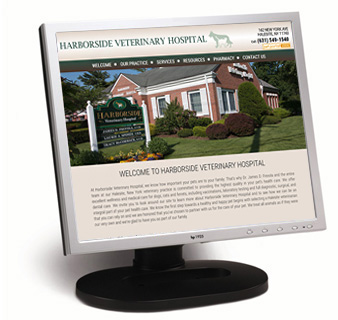 We have been using VetNetwork since we first put up a website ten years ago. We have always been happy with them. When it came time to update the website we have been even happier. They listened to our ideas and worked to implement them even when we were not clear on what we wanted. They were super-fast in making changes and always got back to us very quickly. We worked with Lauren who was very helpful and a pleasure to talk with. We would highly recommend VetNetwork if you are looking to update your website.
— James Frevola
Harborside Veterinary Hospital
Halesite, NY
Family Friends Veterinary Hospital & Kennel
I'm very pleased that we partnered with VetNetwork to develop a new website for Family Friends Veterinary Hospital & Kennel. We also decided to bundle the website with VetNetwork's social media package. Right from the initial phone conversation, through website development to launching the website, the staff was wonderful to work with. They listened to our needs...
Read more about Family Friends Veterinary Hospital & Kennel »
Gardner Animal Care Center: An AAHA-Accredited Practice Seeking a Change
Gardner Animal Care Center is an AAHA-accredited veterinary hospital in central Massachusetts with an established reputation as a highly skilled veterinary practice offering personalized care to its clients and patients. Their excellent standing as a caregiver was not matched, however, by the template-based site another web designer had provided. As a result, finding the right marketing and web design company to partner with was essential. For Dr. Brian Hurley, the owner of GACC, VetNetwork has risen to the occasion...
Read more about Gardner Animal Care Center »
North Paws Veterinary Clinic: A New Practice Looking to Attract Clients and Build Their Reputation
Dr. Coral Riggs opened North Paws Veterinary Clinic in Maple Grove, MN in 2014. Excited about bringing state-of-the-art veterinary care and old-fashioned doctor-patient relationships to the pets and pet parents in her community, Dr. Riggs also needed an online presence that effectively communicated those goals to pet owners. In listening to Dr. Riggs during the website development process, we created a design that incorporated both bold and whimsical elements. The warm and confident result is the perfect fit for her practice...
Read more about North Paws Veterinary Clinic »
Mandarin Animal Hospital: An Established Practice in Need of an Online Presence
Since 2011, the team at VetNetwork has been fortunate enough to work alongside Dr. James Mosley, the owner of Mandarin Animal Hospital in Jacksonville, Florida. Dr. Mosley reached out to VetNetwork for assistance in designing a custom website and logo and developing the practice's online and print marketing plan.
We spoke with Dr. Mosley about the success of his marketing plan and his friendly, productive relationship with VetNetwork...
Read more about Mandarin Animal Hospital »
A Few More Words From Satisfied Clients:
Click to Read More
Click to Hide