Come see what a partnership with VetNetwork can mean for you.
The entire team at VetNetwork is dedicated to providing what you need to achieve real results and revenue growth. Just ask a few of our satisfied clients what a partnership with VetNetwork can mean for you.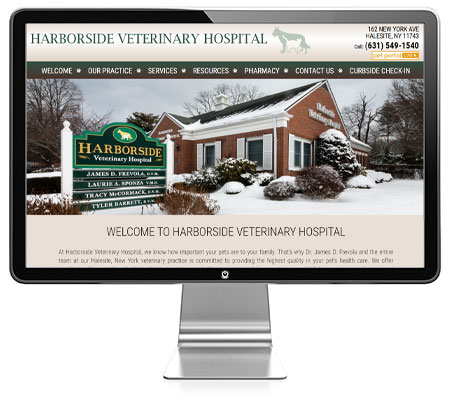 "We have been using VetNetwork since we first put up a website ten years ago. We have always been happy with them. When it came time to update the website we have been even happier. They listened to our ideas and worked to implement them even when we were not clear on what we wanted. They were super-fast in making changes and always got back to us very quickly. We worked with Lauren who was very helpful and a pleasure to talk with. We would highly recommend VetNetwork if you are looking to update your website."
— James Frevola
Harborside Veterinary Hospital
Halesite, NY
Family Friends Veterinary Hospital & Kennel
I'm very pleased that we partnered with VetNetwork to develop a new website for Family Friends Veterinary Hospital & Kennel. We also decided to bundle the website with VetNetwork's social media package. Right from the initial phone conversation, through website development to launching the website, the staff was wonderful to work with. They listened to our needs...
read more...
North Paws Veterinary Clinic: A New Practice Looking to Attract Clients and Build Their Reputation
Dr. Coral Riggs opened North Paws Veterinary Clinic in Maple Grove, MN in 2014. Excited about bringing state-of-the-art veterinary care and old-fashioned doctor-patient relationships to the pets and pet parents in her community, Dr. Riggs also needed an online presence that effectively communicated those goals to pet owners. In listening to Dr. Riggs during the website development process, we created a design that incorporated both bold and whimsical elements. The warm and confident result is the perfect fit for her practice...
read more...
Mandarin Animal Hospital: An Established Practice in Need of an Online Presence
Since 2011, the team at VetNetwork has been fortunate enough to work alongside Dr. James Mosley, the owner of Mandarin Animal Hospital in Jacksonville, Florida. Dr. Mosley reached out to VetNetwork for assistance in designing a custom website and logo and developing the practice's online and print marketing plan.
We spoke with Dr. Mosley about the success of his marketing plan and his friendly, productive relationship with VetNetwork...
read more...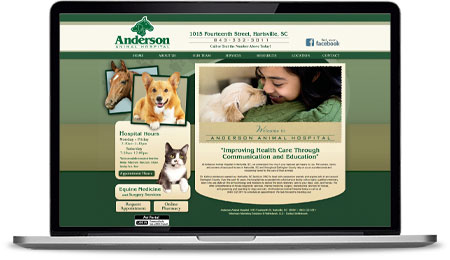 "My recent experience with VetNetwork was nothing short of wonderful. My website needed a change in order to be more educational for my clients and to be a better marketing tool for my hospital while at the same time it needed to be less work for me.
With Vetnetwork I got both. They are a team consisting of both veterinarians and technical writers that can produce correct medical information and have staff with excellent marketing skills to put that information to the most productive use.
I am looking forward to working with them in the future to both learn how to further promote my hospital in a professional way and produce a new brochure."
— Kathryn Anderson, DVM
Anderson Animal Hospital
Hartsville, SC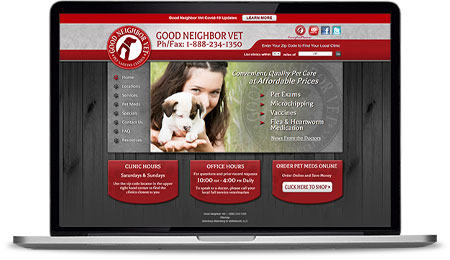 "After VetNetwork did its SEO magic, Good Neighbor Vet ended up in the number one position in Google in almost every category and location that we serve. Most searches resulted in multiple top listings. We are impressed and pleased with VetNetwork's SEO expertise."
— Keith Grossmann, Owner
Good Neighbor Vet
Washougal, WA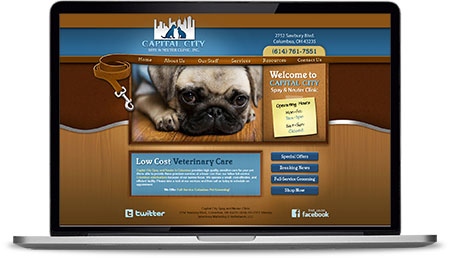 "Capital City Spay and Neuter Clinic would like to thank the great staff at VetNetwork for their fantastic design of our web site and face book page. We have received so many compliments on our site. Our customers have commented the first thing that draws their attention is the "Professional Look and Design" and also expressed it is very easy to navigate to the different areas of the web site. They have commented they enjoy reading the monthly newsletter and state that it is very informative.
The marketing has paid off and the SEO Team has put Capital City in the number one position in Google in the services we offer. I would highly recommend VetNetwork to all veterinary businesses who are thinking of developing or changing their website."
— Sharon Schilling, Business Manager
Capital City Spay and Neuter Clinic
Columbus, OH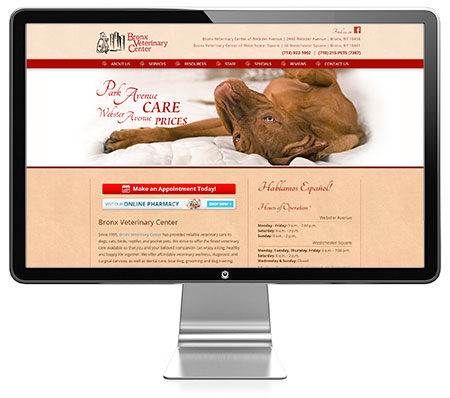 "Working with VetNetwork has been a great business decision. They made everything so easy and the results have been spectacular. So far they have designed an attractive postcard that has driven dozens of new clients to our practice, a beautiful and friendly-looking brochure that we are proud to distribute all over town, a logo that truly represents who we are and a knock-out website that brings in new clients every day. They even wrote our press releases and helped us organize our successful open-house."
— Nicole DeLalle-Katz, Practice Manager
Bronx Veterinary Center
Bronx, NY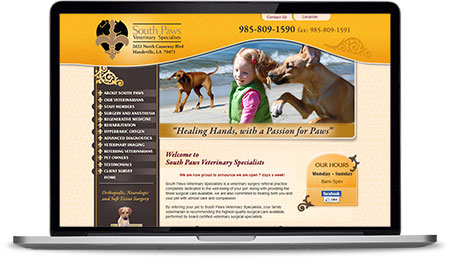 "When I first saw the design of our clinic website, I was thrilled. VetNetwork really listened to our preferences, and managed to pull our abstract ideas together into a cohesive website design that represents the essence of our clinic and practice.
Both the website and the brochure are impeccable. The brochure is perfectly written and contains the right combination of text and photos. It accurately conveys the compassionate, welcoming, client-driven atmosphere that is consistent with our practice brand.
If you have a marketing or advertising project, VetNetwork is the advertising and marketing company you should call. Without a doubt, we highly recommend VetNetwork to all our veterinary colleagues."
— Robert Hancock, DVM, MS, DACVS, Owner
South Paws Veterinary Specialists
Columbus, OH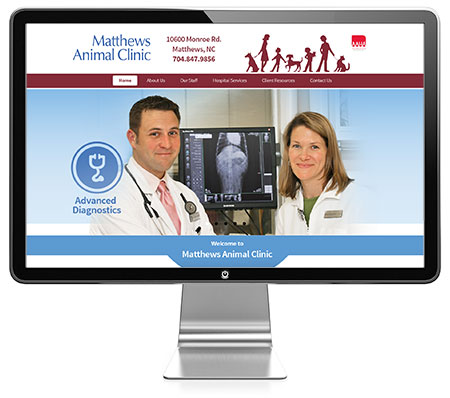 "The entire VetNetwork staff has been helpful and attentive to our advertising needs. I can say with confidence that our website is attracting new clients all the time. Our brochure is beautiful and everyone is impressed. We have cancelled our yellow pages ad and haven't looked back. If you are looking for a company to create and maintain your website, produce high-quality brochures, and supervise your veterinary hospital's marketing plan, call VetNetwork."
— Ann Meadows, DVM, Owner
Matthews Animal Clinic
Matthews, NC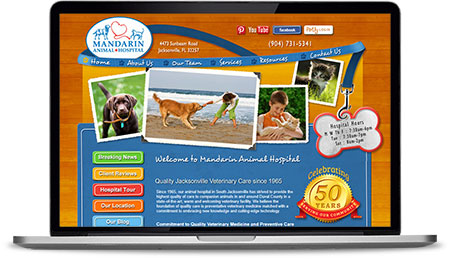 "When I purchased my practice in 2011, I knew that I wanted to differentiate Mandarin Animal Hospital from the competition in the area. VetNetwork's knowledge of veterinary marketing and their proven success in the field made my first marketing decisions easy. They created a memorable logo for my practice and then built a professional custom website to match. The staff at VetNetwork was very friendly and professional.
Purchasing a practice is stressful enough; they helped guide me through the process and took the headaches of online marketing completely off of my plate. I can say with great confidence that partnering with VetNetwork for our marketing needs has been a great investment. I can't even count the number of times we've gotten great feedback on our website!"
— James L. Moseley Jr., DVM
Mandarin Animal Hospital
Jacksonville, FL