VetNetwork knows how to make social media work for your veterinary hospital, so you see results.
Social media is a very powerful tool for promoting your veterinary hospital. By establishing a social media presence, your veterinary hospital can: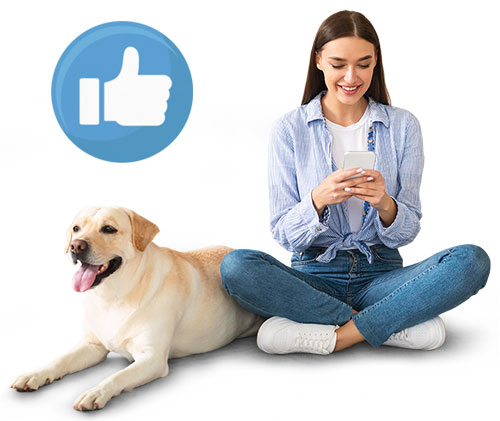 Educate pet owners regarding preventive care, seasonal risks, region-specific disease threats, pet product recalls
Establish and maintain relationships with prospective and existing clients
Build client loyalty by your role as a valuable veterinary resource and pet care partner
Keep veterinary care and the services you provide top-of-mind
Boost your veterinary hospital SEO and drive more pet owners to your website
Strategic, well-thought out posts and updates relevant to the pet owners in your community enhance relationships, build trust, and create dialogue—all of which will bring people through your door, strengthen your client base, and increase your revenue.
Social Media Platforms
The current top social media platforms, along with their unique advantages, are:
Facebook: Powerful and inexpensive, Facebook can help you directly interact with clients and potential clients while simultaneously spreading the word about your clinic's care and services.
Twitter: With its sizable online community, Twitter helps you communicate directly with your clients in real time and allows you to react quickly to clients' questions and needs. It allows for instant updates on promotions and initiatives, blog entries, and other news of your practice.
YouTube: YouTube reaches more US adults ages 18-34 than any cable network. This popular online venue allows you to interact with clients through instructional videos, tutorials, and a video tour of your clinic. Clients love to see you demonstrate pet care techniques through video and this platform allows you to educate your clients on pet care topics with authenticity and, if you choose, humor.
VetNetwork Can Help
"It was a pleasure working with the staff at VetNetwork. With VetNetwork's social media expertise and assistance, we've established and cleaned up our social media presence and are actively using Facebook and other tools to keep our clients engaged and involved with what's happening at Portville Veterinary Clinic."
— Dr. Kenton Flaig, Owner, Portville Veterinary Clinic.
Although actual posts and updates require only minutes a day, commitment and an understanding of how veterinary social media fits into your larger marketing strategy is essential to realizing the platforms' full benefits. An ad hoc, inconsistent social media presence can actually harm your veterinary hospital's image more than it helps.
VetNetwork offers a comprehensive array of veterinary social media marketing services customized to your goals and needs. We know how to make it work for your veterinary hospital so you see results. Getting started is simple—give us a call today at 800-564-4215 or email VetNetwork here.
Need help with your veterinary hospital's online reputation or getting better rankings through veterinary SEO? We can help.