In our highly-connected digital world, pet owners expect to find information quickly and easily.
In most cases, pet owners are looking at your website on their phones or tablets. Your site needs to be mobile optimized so that it looks great and functions perfectly on mobile websites, and at VetNetwork, we ensure that happens.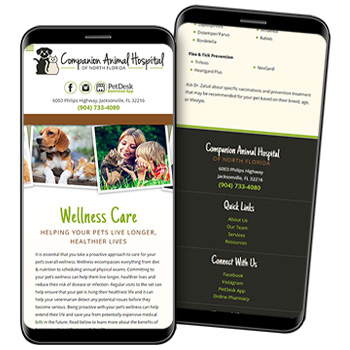 Optimizing Veterinary Websites for Mobile Devices
In the past when developers built websites, they built one version for computers and another version for mobile devices. If business owners wanted to cut corners, they sometimes opted to skip the mobile version. That has always been a mistake, but before the rise of the smartphone, it wasn't as risky a move for businesses.
Now, when you get veterinary websites, the developers creates one responsive website that looks great on all platforms and screens. When visitors come to your site, the site figures out if they are on a desktop computer or a mobile device, and the site responds accordingly.
Finding Your Clients by Going Mobile
Over 50 percent of pet owners search for veterinary hospitals on their mobile devices, and every day, more and more potential clients are searching for veterinarians and veterinary hospitals on their smartphones than on their laptops or desktop computers combined.
In the United States, people are more likely to use smartphones than tablets, laptops, or desktops, and 48% of all mobile use starts with a search engine. If they're not finding you, they're finding your competition and going there instead.
In our highly-connected digital world, pet owners expect to find information quickly and easily. If you are not doing everything you can to meet this fundamental demand through mobile veterinary sites, you are missing important opportunities to bring pet owners into your hospital and increase your revenue.
You Need a Mobile Friendly Veterinary Website
Digital trends and research overwhelmingly indicate that mobile devices are the primary hardware used to for all online activity. According to a survey by StatCounter, 55 percent of adult cell phone owners access the internet on their mobile devices—a figure that has almost doubled in the last three years. Continued innovation in the highly competitive handheld market, coupled with the increasing availability of wireless high-speed internet service, virtually guarantees mobile devices' dominance over traditional laptop and desktop computers.
Veterinary websites designed for smartphones and tablets not only help you attract new clients, but they can be an important way for you to stay in contact with the pet owners you already see. You can set up the site so that current clients can make appointments, confirm appointments, ask questions, or take care of other issues. Mobile optimized websites add real value for your clients, attract new business, and potentially increase your revenue.
Why VetNetwork?
When you work with VetNetwork, you're not just another number to us. We take the time to get to know you and your practice on a personal level so we can provide white-glove customer service to you every time you contact us. Founded by a veterinarian, we know the value of feeling appreciated and that's always how you'll feel with us.
Give us a call at 800-564-4215 or contact us online today to see how we can help you grow your veterinary practice!