Success Story: Gardner Animal Care Center
Gardner Animal Care Center:
An AAHA-Accredited Practice Seeking a Change
Gardner Animal Care Center is an AAHA-accredited veterinary hospital in central Massachusetts with an established reputation as a highly skilled veterinary practice offering personalized care to its clients and patients. Their excellent standing as a caregiver was not matched, however, by the template-based site another web designer had provided. As a result, finding the right marketing and web design company to partner with was essential. For Dr. Brian Hurley, the owner of GACC, VetNetwork has risen to the occasion.
"VetNetwork is a part of the GACC family and they keep me up-to-date on the latest and greatest," he says. "Our goal is to stay one step ahead of the competition and I feel VetNetwork helps me achieve this goal."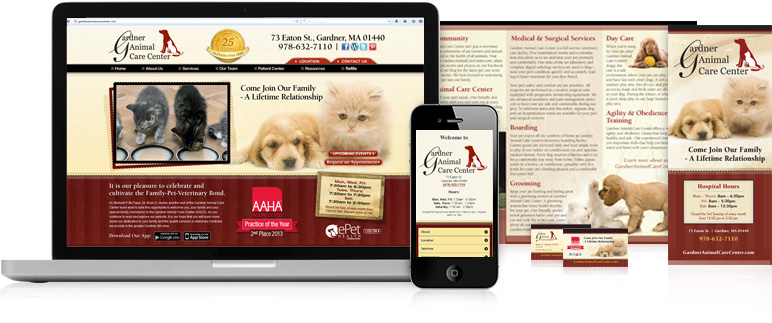 A Long-Term Partnership
Dr. Hurley wasn't looking to work with just another web developer. He wanted a company who truly understood the veterinary hospital business and how to design and write for pet owners. With VetNetwork, he found the technical design, editorial skill and veterinary hospital-specific marketing expertise he wanted.
"The most common comment about our website has been WOW!" Dr. Hurley said. "Clients have chosen us over other practices because of our website and the information it provides. We highlight our website on all the other marketing tools we use, including our social media sites. We want the GACC to be the source of valuable information when the client turns to Dr. Google."
Supporting Continued Success
The team at VetNetwork works hard to keep our clients like Gardner Animal Care Clinic up to date regarding the latest digital and print marketing trends they need to know to stay ahead of their competition and keep growing. We also have the knowledge and experience to translate those trends into marketing tactics that make sense for veterinary hospitals.
The long-term relationship with Dr. Hurley at GACC is one of many we have been honored to enjoy since opening our doors in 2002. We never want to be a one-time service provider. Seeing our clients grow and helping them strategically evolve and adapt is what we do every day, and it's the reason we're here.