VetNetwork teams up with an established practice in need of an online presence.
Since 2011, the team at VetNetwork has been fortunate enough to work alongside Dr. James Mosley, the owner of Mandarin Animal Hospital in Jacksonville, Florida. Dr. Mosley reached out to VetNetwork for assistance in designing a custom website and logo and developing the practice's online and print marketing plan.
We spoke with Dr. Mosley about the success of his marketing plan and his friendly, productive relationship with VetNetwork.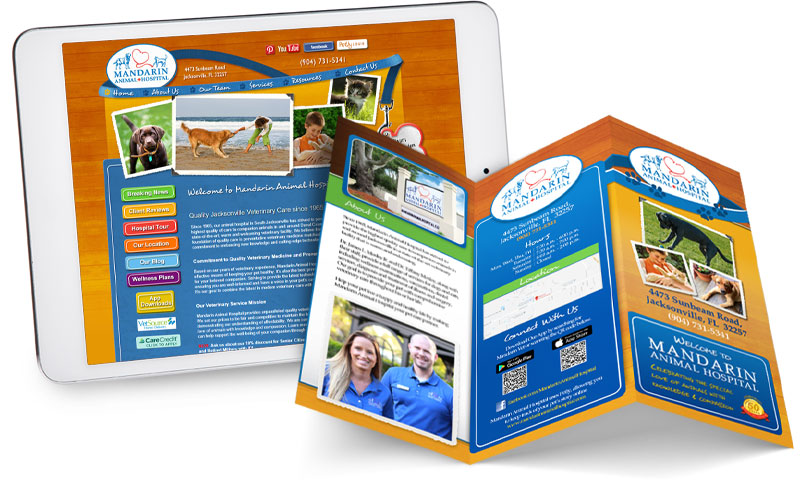 A Long-Term Partnership
Dr. Mosley knew online marketing was the logical next step for moving his practice forward. A partnership with VetNetwork made perfect sense: "We wanted a customized website we could make our own and personal, dedicated service from a company specializing in the veterinary industry." The custom website VetNetwork delivered has become the core component of marketing efforts at Mandarin Animal Hospital—and the results, Dr. Mosley says, are impossible to ignore.
"We have seen amazing growth since we implemented the website," he said. "It's hard to pinpoint what does what, but I can tell you we get a lot of compliments on our website. I think a big portion of our growth is not just due to our website but all the marketing that surrounds it. It's fair to say we're getting new clients in the double-digits as a result."
The Importance of Dedicated Service
"We appreciate what VetNetwork does for us and feel comfortable working with the team," he said. "We don't hesitate to call. I think VetNetwork is true to its core foundation and is also progressive, which is what I need as a young veterinarian and practice owner."
In partnership with Mandarin Animal Hospital, VetNetwork has developed the practice's custom website, mobile website, customized app, brochure and logo. Supported by its ongoing partnership with VetNetwork, the practice is committed to continuously raising the bar for pet owners and their pets, building and strengthening pet owner trust and loyalty, and growing steadily for years to come.
— Dr. Mosley, Veterinarian & Owner
mandarinanimalhospital.com
Jacksonville, FL
return to success stories