Veterinary Hospital Marketing: Let's Talk About Pet Nutrition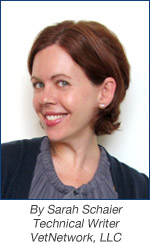 In a recent video, Dr. Ernie Ward admonished veterinarians for not talking to their clients enough about pet nutrition. It's possible he has a point: According to the Association for Pet Obesity Prevention, an estimated 93 million cats and dogs in the US are overweight or obese. The statistic isn't necessarily all bad; from a veterinary hospital marketing standpoint, it represents a great opportunity to reach out to pet owners and create more value for your practice.
Focus on the Opportunity
Nutrition and weight management counseling doesn't require the purchase of any expensive equipment, expanding your space or hiring more staff. Simply take Dr. Ward's advice: "Hone up on your nutritional knowledge, get comfortable talking to clients about excess weight and finally develop your own unique philosophy around what they should feed, how much, how often and why."
Furthermore, don't end the conversation when patients leave the exam room: Make your messages part of your veterinary hospital marketing by regularly posting nutritional information and weight management tips on your veterinary hospital's website and social media networks. You can also download VetNetwork's free infographic (link) on weight management to distribute to clients in your office and share on Facebook.
Many of our veterinary hospital clients already talk about the nutrition counseling services they offer on their websites, including University Animal Hospital. The veterinarians at this animal hospital in Manhattan have made sure to include important information about the role nutrition plays in their overall message of preventive care for NYC dogs and cats.
Once you get pet owners thinking and talking about good nutrition and the risks associated with pet obesity, encourage them to give you a call to schedule a body condition assessment and nutrition counseling for their pets. The end goal is always to get them through your door!
Beneful Feels the Heat
A lawsuit filed last week in California against Purina, the makers of Beneful pet food, underscores another reason why educating pet owners about nutrition is so important. Frank Lucido claims that Beneful sickened two of his dogs and caused the death of another. But many in the veterinary community are pointing out that there is no documented evidence that Beneful was at fault. Good nutritional counseling can help keep pet owners from jumping to potentially false (and damaging) conclusions regarding their pets' health. It can also assure that pet owners have the knowledge they need to make the most informed decisions regarding pet health.
Engage Pet Owners and Grow Your Practice
In VetNetwork's content department, we're always talking and thinking about effective veterinary hospital marketing strategies and about what kinds of content engages pet owners and grows your business. Dr. Ward's video and the recent Beneful lawsuit are both reminders that there are real opportunities to use your knowledge to create value beyond the services and products you offer. Create this value for pet owners, and they will reward you with their loyalty and business.
VetNetwork is owned and operated by a veterinarian with 20 years of hospital ownership experience, and is staffed with a team of veterinary marketing experts that are dedicated to growing veterinary practices. For more information about our veterinary hospital marketing services, please give as call at (800) 564-4215 or send us an email today.
Copyright © VetNetwork, LLC
VetNetwork – Marketing Solutions for Veterinarians and Veterinary Hospitals
www.vetnetwork.com
603-743-4321
No comments yet.
Leave a comment!