7 Tips to Help Ensure Happy Pet Parents and Patients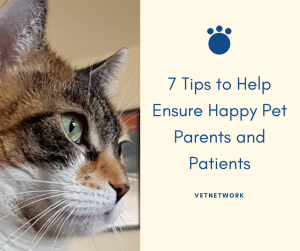 Happy patients and their owners are the core of a successful veterinary practice. Client retention is vital to steady revenue. Aside from providing fantastic service on the examination table, there are many ways to make every appointment and every client feel cared for and listened to. Here are some unique ways to keep patients and their human counterparts happy.
Provide Advice Before the Visit
Tips for any pet parent is important. Reminding the parents to familiarize the pet with their crate or car, to pack a favorite toy or offering for the family to come visit the practice ahead of time is a nice gesture to get the parent and pet ready for their appointment. If the pet has special needs, offer a less-busy time to schedule an appointment to help the pet feel safer. Be sure to mention things that will help your practice stand out, such as "fear-free handling" and even offer house calls if the patient does not do well during the initial exam.
Provide Refreshments & Snacks
Provide Refreshments & Snacks
Providing water, coffee and snacks help make waiting more enjoyable for families. It is a considerate gesture that shows that you care about your patient's family being comfortable.
Display Happy Patients
Take photos of pets (with the approval of the owners) to showcase in the waiting room. Showing photos of puppies first visits, to them being all grown-up going to a check-up shows how you keep patients for the duration of their lifetime. Display healing after surgery, thank-you letters and photos of the staff at charity events or with their pets at home. By showcasing these happy pets and your staff, your new patient parents will be reassured that your practice is trustworthy with their pet.
Be Aware of Wait Times
Make sure your front-desk staff can stay on top of a busy schedule. Prioritizing patients, monitoring arrival times, and making sure each patient will have the proper exam time is vital to a successful practice. With walk-ins and emergencies, things can sometimes get hectic. Don't let long wait times deter patients from coming back! If there is ever an issue, offer a discount to clients that have been waiting for a wellness visit for over forty-five minutes.
If a pet parent brings their child to the visit, be sure to let them be involved! Doing things such as asking the child questions about their pet or letting them hear the pet's heartbeat can create a lasting impression on both the parent and child.
Pet Goody Bags
Pet Goody Bags
Offer a small token or treat for each pet after their appointment. Giving a paper bag with treats, a toy or a bandana with the practice name for the pet to wear (free promotion!) can go a long way in making both humans and pets feel loved and appreciated after a visit!
Check-In After the Visit
Be sure to call every pet parent to go over any questions or concerns they have post-visit. Ask them how their experience was and address any issues they may have had during the appointment or in the waiting room. If they are happy, also ask politely if they wouldn't mind leaving a review on Google or the practice Facebook page.
These tips can help add to the thoughtfulness of your practice and help keep pets and their parents satisfied. Try some of these tips in the upcoming months and see how your patient base grows!
No comments yet.
Leave a comment!