3 Benefits of Hiring a Veterinary Marketing Partner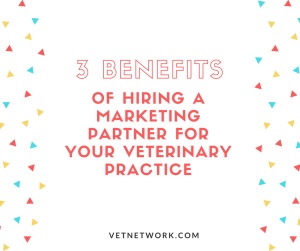 These days, most companies do not market themselves. That may sound surprising but even the top Fortune 500 companies no longer rely solely on employees for their marketing – they outsource heavily to marketing firms. Top companies are allocating more and more of their marketing budget away from their own staff and to third party companies who specialize in marketing.
Just like you wouldn't trust a patient to operate on their own pet, you don't want to trust your practice's entire marketing strategy to an internal employee. While employees have the best of intentions, they may lack the expertise to create, manage and track successful marketing campaigns.
Marketing a veterinary practice is much harder than posting on social media a few times per week – you must create a brand, cultivate an audience and fine-tune your message to that audience. From print materials to paid ads, you need someone to help you manage it all.
As small business owners, veterinarians can understand the amount of work that goes into marketing & building a business. VetNetwork can help you to grow and expand that business through digital and print marketing.
Digital marketing encompasses social media marketing, search engine optimization, email marketing, web design, social media ads & search engine ads, which may be just a piece of the puzzle. Many practices also use postcards and other direct mail pieces to find and attract new clients.
While many veterinarians would prefer to manage their own marketing, here are just a few reasons to consider enlisting our help:
Cost
While your marketing can be handled in-house, it can get expensive quickly! The cost of hiring an employee solely dedicated to marketing ranges nationally from $35,000 – $50,000 per year, not including interviewing and training.
Hiring an experienced marketing team can help you to save money on this salary as well as the software purchases that come along with effective digital marketing management.
Experience
Since 2002, we've based our business on one simple goal: passionately providing veterinary hospitals with a reliable, trusted marketing partner. In everything we do, the VetNetwork team seeks to dedicate ourselves to building long-term relationships that help veterinarians like you achieve your business goals.
While many agencies can boast marketing expertise, not all agencies can boast 16 years of experience marketing to and for veterinarians.
Time
Time is the number one enemy of DIY marketing. All business – large and small – have the best intentions when it comes to handling their marketing. Unfortunately, marketing and interacting with your audience often is the first to fall into the pile of good intentions.
When you hire a marketing partner, you are quite literally paying for their time! A marketing partner will dedicate time and energy to your marketing efforts each month.
Overall, hiring an in-house marketing staff member can often be pennywise and pound foolish. Between marketing software, tracking tools, and a salary, expenses can quickly add up! For many veterinarians, partnering with a digital marketing agency who specializes in veterinary marketing is the preferred choice.
No comments yet.
Leave a comment!