Your New Veterinary Marketing Tool: A Digital Camera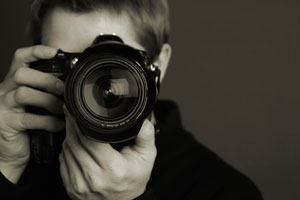 Whether you need to take photos of your hospital for your veterinary website or simply want to snap some pictures of clients and their pets, a digital camera is a useful marketing tool to have at your veterinary hospital. The good news is that as technology improves, most cameras are decreasing in price while boasting better technical specifications and more features. However, this means there are hundreds of cameras to choose from and finding a camera that best fits your veterinary marketing needs can be a difficult process.
Before zeroing in on a particular brand or camera that has caught your eye, take a moment and consider how you'll be using the camera. Some cameras are suited more for semi-professional photographers and gadget geeks, while others are geared toward more casual use. And while it may seem as though a higher-priced camera may take better photos, this is not always the case. Buying guides at http://www.cnet.com and Consumer Reports can provide side-by-side price comparisons and websites like http://www.pricegrabber.com and http://www.beatmyprice.com can help you find the best deals on cameras.
If you're looking to take photos for your veterinary website, for print advertisements, or to print out for clients (at a size greater than 4×6), a higher-end point-and-shoot camera can best fit your needs. Look for cameras with a resolution of 8 to 9 megapixels or greater, more exposure control options (aperture and shutter speed, for example) and higher zoom ranges. These cameras generally range in price from $200 to $600, depending on the features and specifications. Most point-and-shoot cameras come with standard features like direct-to-printer output capability (allowing you to print photos directly from the camera without transferring to a computer), in-camera red-eye removal, face detection and video recording capability. What features you choose depend on how much you want to spend. Ease of use is also an important consideration, as several veterinary hospital staff members may be involved in taking photos. For gadget geeks, cameras with voice recording, Wi-Fi capabilities, face detection, touch-screen displays and other features are available.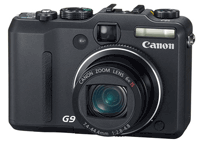 The Canon PowerShot G9 is a good choice for a higher-end camera that packs in a lot of features but still remains affordable. The G9 has a resolution of 12.1 megapixels and a 4x digital zoom. It features multiple exposure modes (aperture-priority, automatic, shutter priority, program and manual) and a quick 2.3 second gap between shots (when using the flash). It can also shoot video in AVI format and uses optical stabilization to prevent blurry pictures. The G9 also offers manual ISO settings (for shooting in low light) up to 1,600. The G9 ranges in price from $450 to $579.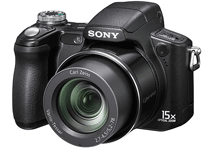 The Sony Cyber-shot DSC-H50 is another camera that combines the ease of use of most point-and-shoots with the image quality of a digital SLR. It features a 9.1 megapixel resolution and 2x zoom, which can also be used when shooting video. The camera uses Sony's Super SteadyShot stabilization feature for producing sharper pictures. Its tilting LCD display provides greater freedom when setting up shots at low and high angles. The camera also features an ISO boost (for shooting in low-light settings), an Advanced Sports Shooting mode for action shots and an extremely simple "Easy mode," should you need to hand the camera over to a complete novice. The DSC-H50 ranges in price from $300 to $417.
At the higher end of the digital camera spectrum are digital SLR (single lens reflex) cameras. Digital SLRs are suited for avid photographers – either amateur shutterbugs who are serious about their hobby or professional shooters. These cameras give you more control over your images and are compatible with a wide range of interchangeable lenses. Prices for dSLRs start around $600, usually for the body of the camera only. Lenses and accessories cost extra.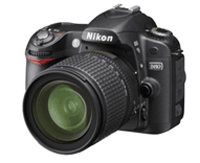 The Nikon D80 is a good entry-level dSLR for those making the leap from standard point-and-shoot cameras. The D80 features 10 megapixels of resolution and ISO up to 1,600. It comes with built in shooting programs (for portrait, landscape, sports mode and so on) and the layout of the buttons on the camera and the menu system make it easy to adjust exposure, aperture and shutter speed settings. The D80 also features a retouch menu that allows you to edit photos in the camera. You can resize, crop, add effects, reduce red-eye and even overlay images on top of one another, all within the camera. Any time you edit an image in camera, a new copy of the photo is saved, so you can go back to the original. The D80 costs about $630.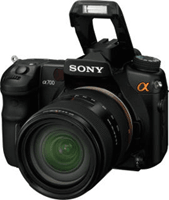 The Sony Alpha DSLR-A700 is a step up from the Nikon D80. A mid-range dSLR, the Sony Alpha offers enhanced picture quality over basic dSLRs at an affordable price. The Alpha is available in a number of kits and you can purchase the body of the camera only or opt for a kit that includes an 18mm-70mm lens. The camera's settings are controlled through direct-access buttons and the LCD display, and shutter speed, aperture and exposure are all controlled with dials on the camera. The built-in image stabilizer and higher resolution (12.24 megapixels) result in sharp, high-quality images and the camera performs well under low-light settings. The Sony Alpha DSLR-A700 ranges in price from $1,169 to $1,399.
A digital camera can be a useful addition to your veterinary practice-especially for veterinary marketing. Before buying, consider carefully what kind of photos you will take, how often you will use the camera and how much you're willing to spend.
For more insight into tools and tips in veterinary marketing that you boost your business, visit our page on veterinary marketing.
No comments yet.
Leave a comment!
« Popular Pet Care Articles: What Your Veterinary Clients Are Reading