Popular Pet Care Articles: What Your Veterinary Clients Are Reading
Want to know how to market more effectively to your veterinary clients? Looking at what interests them in pet care articles is a great first step to giving them the assistance and answers they need.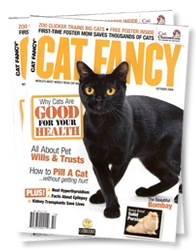 Cats
This month in Cat Fancy Magazine, your clients are reading about kidney transplants and hyperthyroidism. If you are not familiar with the medical articles in Cat Fancy, they are usually based around an actual medical case. Through the article, you get personally involved with the cat, the owner and the staff at the veterinary hospital.
Kidney Transplant Story – This is the story of Milo, a cat diagnosed with renal failure and taken to University of Wisconsin School of Veterinary Medicine for a kidney transplant.
In 2005, Milo was diagnosed with kidney disease and had her first kidney transplant one month after her diagnosis. Before surgery, the donor and recipient were cross-matched to ensure that their blood types were compatible. Unfortunately, a few days after the surgery, Milo's body rejected the kidney. One month after the failed transplant, the owners decided to try again. The second surgery was a success and Milo has been doing well ever since.
The total bill for both surgeries was $30,000. In order to prevent rejection, Milo receives immunosuppressants twice a day. The cost for the medication is $1,100 per year.
"The best thing I've ever done with any money is to save Milo's life," said Milo's owner.
Hyperthyroidism – This article discusses the plight of Maggie, a tabby cat living in Massachusetts diagnosed with hyperthyroidism.
The article lists Maggie's classic symptoms (huge appetite and alarming weight loss) and discusses the pathology of the disease. Possible causes of feline hyperthyroidism are mentioned: ingestion of plants as part of a cat's diet, flame retardants and plasticizers. The article also states that to date, no compounds have been unequivocally linked to hyperthyroidism in cats.
The three treatment options for feline hyperthyroidism are discussed: drugs, surgery, and radioiodine therapy. Radioiodine is mentioned as the therapy that most veterinarians consider the best. The article goes on to review the advantages and disadvantages of the three treatment options.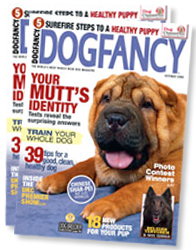 Dogs
This month, Dog Fancy Magazine reports on DNA Testing to "reveal your mutt's breed composition." There is also an interesting article about colleges that are opening their doors to students with pets.
Colleges Opening their Doors to Pets – As enrollment figures are starting to drop, many colleges are welcoming pets. Administrators at Stevens College in Columbia, MO and State University of New York at Canton have seen enrollments increase and emotional problems, often associated with students leaving home for the first time, decrease since allowing pets on campus.
A survey of 1,400 colleges lists allergies and irresponsible students as the two main reasons for not allowing pets. Other objections include mess, noise, disease, biting, roommate issues and pet abandonment.
Schools that allow pets solve these problems by reserving a dorm wing for students with pets. A deposit covers damages and cleaning costs. All schools require current veterinary records and waivers of liability.
For more information visit:
http://www.stephens.edu/campuslife/housing
http://www.eckerd.edu/housing/index.php?f=pets06
http://web.mit.edu/dormcon/pets
DNA Testing for your Mutt –A simple test now can reveal your dog's breed composition. These DNA-based tests were originally developed to study the basis of human diseases and became available for dogs in 2007.
Two tests are available to dog owners. One test requires the owner to collect their dog's DNA using a cheek swab. The other is a blood test performed by a participating veterinarian who delivers the results to the owner.
The results of the DNA tests provide the owner with the breed make-up of their dog. Besides being fun to know, owners can better understand the personality of their dogs and screen for potential diseases associated with particular breeds.
For more information visit:
No comments yet.
Leave a comment!
« Veterinary Client Financing: Help Clients Finance Pet Care