Veterinary Social Networking For Your Veterinary Hospital Website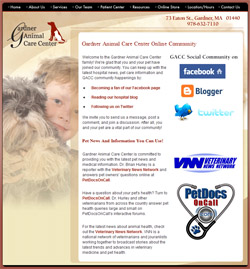 What can social media networking do for your veterinary hospital's website? Plenty! Just ask Dr. Brian Hurley at Gardner Animal Care Center in Gardner, MA. Earlier this year, Dr. Hurley created a hospital blog using Blogger and joined the millions of users on Facebook and Twitter. VetNetwork has redesigned GACC's homepage and has added a new Online Community page , with links to the hospital's Twitter and Facebook pages and the vet hospital blog.
In addition to directing current and potential clients to the veterinary hospital's website, networks like Facebook and Twitter add an extra level of engagement between the veterinary hospital staff and clients. On the GACC Facebook page, Dr. Hurley posts announcements about upcoming hospital staff birthdays and anniversaries, events as well as links to new blog posts.
On Twitter, Dr. Hurley provides a look into the daily life of a busy veterinarian, with links to his reports for the Veterinary News Network and PetDocsOnCall. In addition to engaging veterinary clients, Twitter has connected Dr. Hurley with other veterinarians across the country, an added benefit for social networking.
The hospital's blog is also receiving lots of traffic. Recent posts have highlighted a recent radio interview Dr. Hurley participated in, a look at trends in heartworm prevention and tips for caring for older dogs.
So far, clients have responded enthusiastically to all of the hospital's social media networking efforts, according to Dr. Hurley. During hospital visits, clients often bring up his posts on Facebook and Twitter, and he says the veterinary social media networks have helped the hospital staff develop closer relationships with clients.
Social networking presents many valuable opportunities for your veterinary hospital to connect with both your current clients, potential clients and members of your community. VetNetwork can help you set up your Facebook and Twitter accounts and guide you through the ins and outs of veterinary social networking for your vet practice. To check out what we're doing, visit our Facebook page or follow us on Twitter. To get started, call us today at 800-564-4215.
Written and Copyright ©
Mark Feltz, DVM
VetNetwork, LLC 2010
www.vetnetwork.com
1 Comment for Veterinary Social Networking For Your Veterinary Hospital Website
Leave a comment!
« Make Veterinary Hospital Employees Part Of Your Social Networking Strategy