Your Veterinary Website's Shopping Cart Page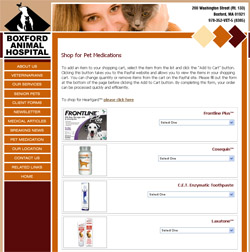 If you don't have a small, custom veterinary pharmacy shopping cart on your vet website, you should think about getting one. You certainly don't need an elaborate commercial shopping cart just to sell a few medications online.
VetNetwork can add a personalized e-Pharmacy page to any veterinary hospital website for a very reasonable fee. Along with flea and heartworm products, we can include several of your most popular over-the-counter products on your shopping page.
Many online veterinary Internet pharmacies take 20% and even up to 30% of your profits. They also use your clients' email addresses to solicit them to purchase additional products and services. Is this what you want them doing with your clients' email addresses?
Heartworm and flea products comprise 95% of the medications that pet owners purchase online. There is no reason why you can't have a simple shopping page for selling these items directly to your clients and website visitors.
A shopping page on your veterinary website is a benefit and convenience for your clients. After all, that is why you have a veterinary website, right? Your clients do not need to be sent to another website just to purchase a few products.
Your customized E–Pharmacy Page includes only products that you want to sell. You can add as many products as you like and you can change them as often as you want.
Most veterinary pharmaceutical companies can supply you with cardboard mailers for sending heartworm and flea products to your online customers. Many can even supply pre-paid mailers.
To visit VetNetwork about setting up your e-pharmacy page,  please click here. Need more web services for your veterinary website?
Examples of clients' e-Pharmacy Pages include Webster Groves Animal Hospital, VIP Pet Services, and Boxford Animal Hospital.
For more information about setting up your personalized E–Commerce Pharmacy Page, please contact VetNetwork today. 800–564–4215
Written and Copyright ©
Mark Feltz, DVM
VetNetwork, LLC 2010
www.vetnetwork.com
No comments yet.
Leave a comment!
« Veterinary Social Networking For Your Veterinary Hospital Website