Use Your Veterinary Website To Promote Community Outreach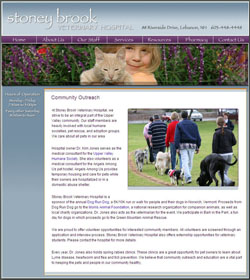 As economic woes continue, more and more pet owners may turn to low-cost veterinary clinics for services for their pets. If your veterinary hospital sponsors low-cost spay/neuter clinics or works with a local animal rescue group or humane society, you may have already noticed an increase in the numbers of people and pets who are attending. But a slowdown in business also is encouraging some veterinarians to perform more charity work.
In March, the Veterinary Information Network offered an anecdotal report about veterinarians across the country who have increased their community outreach efforts partly due to a desire to help pets but also as a way to keep busy when business is slow.
"I am just looking to stay busy while times are tough," Michelle Brownstein, DVM told VIN. Brownstein, a practicing veterinarian in the Rochester, NY suburb of Henrietta, held a free weekend veterinary medicine clinic for the community. The community was hard hit by massive layoffs at the Eastman Kodak Co., a major employer in the area, and Brownstein believed those recently laid off might have pets in need of care but lacked the money to pay for a visit to the veterinarian.
The VIN article goes on to describe how Brownstein and other veterinarians across the country are reaching out to pet owners in dire financial straits. Many of these outreach efforts include coverage by local media. The aim isn't necessarily to drum up more business but rather let the community – as well as potential volunteers and donors – know that such efforts are available.
While your veterinary hospital provides hundreds of hours worth of free or reduced cost care for organizations in your town or city, members of your community may not be aware of these efforts. A "community outreach" section on your veterinary hospital website is an excellent way to spread the word about free or low cost medical clinics, partnerships with humane societies and other volunteer efforts.
A "community outreach" section on your veterinary hospital website serves a number of purposes. You can post announcements about upcoming spay/neuter or vaccination clinics and use your hospital's website to inform the community. A press release is an excellent and free method to announce an event at your hospital. Send a press release to your local newspaper or TV station and direct them to your website for more information. A community outreach page drives more traffic to your hospital's website and informs the community-at-large about your veterinary hospital's services and philosophy. While some pet owners in the community may be looking for reduced or free care now, they may become regular clients when times are better.
The talented and creative staff at VetNetwork can create a "community outreach" page for your veterinary hospital website. Call us today at 800-564-4215 to learn more about how we can help you inform your local community about the services your veterinary hospital offers.
Written and Copyright ©
Mark Feltz, DVM
VetNetwork, LLC 2010
www.vetnetwork.com
1 Comment for Use Your Veterinary Website To Promote Community Outreach
Leave a comment!