Veterinary Facebook Marketing: Put Your Best Face(book) Forward: Part Two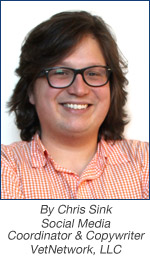 "Like" it or not, Facebook has become an extremely important part of the marketing puzzle for businesses everywhere – and that includes veterinary practices. But while the process of setting up a page for your practice on Facebook may seem straightforward, there's a lot more you need to be aware of to get results.
Over the next few weeks, we'll be looking at different ways to engage with pet owners using Facebook. In this installment, we'll tackle sponsored posts.
Facebook launched their Pages feature in 2007 for bands, businesses, and other non-person entities. Unlike personal Facebook profiles, which automatically limited the number of friends a user could have, Pages allows an unlimited number of people to connect by Liking the page. When the feature first launched, Page posts were treated the same as profile posts: if a user followed a page, they would see posts from the Page on their newsfeed along with their friends. Today, that is no longer the case. Facebook now uses an algorithm to determine how many fans will see your post, and they're picky – often times, only a fraction of your followers will see any given post.
Luckily, there is a solution: boosted posts.

Below every post on your page, there's a button that says "Boost Post." This allows you to pay Facebook in return for Facebook making sure your ad reaches a certain number of people. The more you pay, the more people will see your post.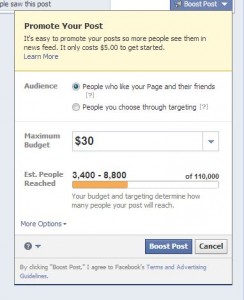 When should you boost a post?
Even though it's inexpensive to boost a post if you have a relatively small number of followers, you'll want to ask yourself a few things before you boost a post as a part of your veterinary Facebook marketing campaign:
How long has this post been up? You'll want to give each post at least a few hours to see if it will reach your followers "organically," or without boosting the post. VetNetwork posted an infographic that we wanted to make sure our followers saw, and we considered boosting the post. However, in a few hours, with only three shares, the post had reached almost our entire audience. Boosting the post would have been a waste of money.
Will boosting this post help us meet our objective? Boosting posts are a great way to get your existing followers and their friends to see a specific update. If you're looking to get more followers, you're better off buying a Facebook ad.
Does my post follow Facebook's rules about what can be sponsored? Facebook will not allow sponsored posts that contain an image with more than 20% text. If you want to promote an image with a lot of text in it, consider taking the text out of the image and putting it into the post itself. (There is no such limit on text in the post itself.)
Once your boosted post is approved by Facebook, be sure to check the status of the post by looking at the counter below the post. Mouse-over it and it will tell you how many views were "organic" (non-paid) and how many were paid.

Facebook's advertising platforms are growing and evolving at a rapid pace. Don't get left out. Contact VetNetwork to see how we can grow your practice using veterinary Facebook marketing.
Copyright © VetNetwork, LLC
VetNetwork – Marketing Solutions for Veterinarians and Veterinary Hospitals
www.vetnetwork.com
603-743-4321
No comments yet.
Leave a comment!
« Veterinary Video Marketing: Why Videos Are Top Priorities for Google