Non-Solicitation Agreements Add Bite to Your Veterinary Contract
Enjoying a long, successful career in veterinary medicine is important to you. Whether you are a veterinary hospital owner or a veterinary associate, an important initial step in securing such an outcome is to sign a well-written *non-solicitation agreement.
You, a veterinary associate, have worked hard at Clinic A for five years. You have recently made a job change and moved to Clinic B where you are now a co-owner and hope to expand your veterinary career. Having signed a non-solicitation agreement with your former employer at Clinic A years ago, you know better than to approach past clients and/or make an appeal for their continued business. But if those same clients learn that you have moved and they proactively reach out to you… then certainly there's no harm in returning their call and scheduling some veterinary appointments for their pets, right? Wrong. Oh so very, very wrong.
"But, but, but…!"
"But the client called me first." Hmmm, this retort sounds remarkably similar to a young child's defensive response when caught committing a transgression against a sibling ("But he poked me first!"). The fact of the matter is, when it comes to non-solicitation clauses and the law, it doesn't matter who did the initial "poking". Don't engage in client solicitation even if the client makes the initial contact.
"But why?"
Because federal courts take non-solicitation agreements very seriously, that's why. And because federal law protects the employer regardless of who reached out first- you or your former client.
In 2013, the U.S. First Circuit Court in Corporate Technologies Inc. v. Brian Harnett and OnX USA LLC used a legal scalpel to dissect and delicately define "solicitation". In its holding, the Court acknowledged that while the line between solicitation and "acceptance of business" is not always clear, the identity of the party making initial contact is important and should be considered when determining active solicitation.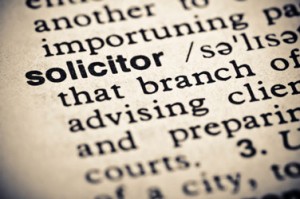 Reach Out- but Watch Out
The identity of the party initiating the contact is just one factor to be considered when determining whether a former veterinary employee has engaged in client solicitation. It is still acceptable for a hiring veterinary practice owner to run public announcements about her/his practice and newly hired employees, but s/he must be careful not to cross the fine line between advertising and actively soliciting. The Courts are savvy in recognizing manipulative advertising, especially when aimed pointedly at a veterinarian's former clients.
Cautionary Solicitation Factors (i.e, Things to Watch Out For):
• Who made the initial contact- the veterinary employee or the client?
• Does the advertising intrigue clients in such a way that it incites them to make initial contact?
• Does the announcement target mainly the veterinary employee's former client contacts or does it broadcast widely?
Persuasive Value
The First Circuit's ruling has persuasive value and will likely be far reaching in other jurisdictions. If you are a hospital owner, the moral of the story is to double check your non-solicitation agreement in your veterinary employer/employee contract to ensure your practice's best interests are well protected. If you're the transferring employee, consider your former contract's restrictions before launching yourself into a new clientele base. And if you're a veterinary hospital owner who proudly hired Clinic A's veterinarian, be careful how you publicize this information and your goals in doing so lest you anger the previous employer- and the courts.
For information on enforcing non-solicitation agreements, check out our posting on VetNetwork's Google+ page.
For additional legal advice that benfits you and your veterinary hospital, refer to our ongoing legal blog articles.
*A non-solicitation agreement prohibits a departing employee from soliciting, directly or indirectly, the veterinary clinic's clients, regardless of where they are located, to do business with the employee.
Copyright © VetNetwork, LLC
VetNetwork – Marketing Solutions for Veterinarians and Veterinary Hospitals
www.vetnetwork.com
603-743-4321
No comments yet.
Leave a comment!
« Preparing Your Veterinary Hospital for the XPocalypse: The End of Windows XP is Coming Soon