Your Customized Veterinary Hospital App: A Talk with Mark Lombardi, Our IT Director and Programmer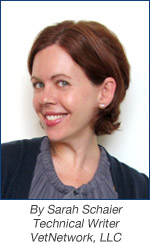 Many of the online marketing services that we provide for veterinarians would not be possible without the expertise and skill of Mark Lombardi, our IT Director and Programmer. As a part of our  employee spotlight series that focuses on our VetNetwork team, we sat down with Mark to talk about his role at the company, VetNetwork's new customized veterinary hospital app for your clients, and how his efforts translate into success for marketing your veterinary practice.
From your technical viewpoint, what do you think sets VetNetwork apart and enables us to deliver the solutions that meet the unique needs of our veterinary hospital clients?
Not all small businesses are the same or have the same marketing needs. At VetNetwork, we don't use a general client-focused approach to direct our technology. We use an approach specific to our veterinary hospital clients and their clients — pet owners.  We evaluate both veterinary hospital and pet owner needs and use that understanding to direct the selection and development of the technologies we offer. The trick is distinguishing valuable trends from simply new trends, and that's where VetNetwork's experience really comes into play.
As VetNetwork's programmer, you are always on the leading edge of technology. What has been the most exciting development you have worked on recently?
In my career, I have seen computers change from large monolithic boxes to tiny machines we carry as personal accessories –  pocket-sized phones, wristbands, even eye glasses.  We're always thinking outside the computer box and, with mobile devices, we have been freed from the constraints of a desktop or even laptop computer. With handheld devices and customized veterinary hospital app,  possibilities for access to content are unlimited; we can redefine our connection to pet owners and get them the information they need and want regardless of where they are or what device they are using.
Please tell us a bit about a veterinary hospital's app development process and what goes in to determining its features.
We begin a hospital's app development by acting as a pet owner.  We ask ourselves, "What am I looking for, what do I expect to see,  what content do I expect to access?"  By focusing on the user-experience and less on the medium, we can offer pet owners the content they need quickly without a lot of unnecessary information.
Our creative team builds the customized veterinary hospital app structure around the practice's personalized content, adding touch links that allow users to navigate around the app to view more information.  We add menus,  options, links and additional information.
We review our clients' services and use that as a base for what the app offers.  In order to keep pet owners well-informed, breaking news areticles are added on a regular basis. We offer information about emergency care,  click-to-call buttons for easy phone calls, and links to after-hour hospitals that can handle local pet emergencies.
What do you see as the benefits of having a customized veterinary hospital app?
An app tailored specifically to your veterinary practice provides pet owners immediate access to valuable information about your hospital and their pet's health. It's a way to connect directly with your clients and be seen every time they look at their phone or mobile device.  As technology moves ahead, an app for your veterinary practice will become more and more expected by your clients.
Can you talk a little about the app market in general? How big is it? Is it growing? What are the benefits of an app vs. a mobile site?
In 2014, the industry expects app usage to overtake traditional installed program usage, with mobile devices overtaking traditional computer usage.  There are over 1 million apps out there, and no matter what you are trying to do with your devices, "there's an app for that."™
Today if you are a business looking to get people to connect to you, you have to create the means for those connections.  Your website needs to be responsive and work with many different-sized devices. You need a presence on social media for people to connect and share their experiences with you.   And more importantly, you need an app specific to your business so your clients can connect directly to you.
As a veterinary hospital owner, you know how important it is to build loyalty and stay engaged with your current clients, as well as constantly reach out to new pet owners. Let VetNetwork help you accomplish these important veterinary marketing goals. For more information about a customized app for your veterinary hospital, or any of the other products and services we offer that will grow and strengthen your veterinary practice, please take a look at our website or give us a call today!
Copyright © VetNetwork, LLC
VetNetwork – Marketing Solutions for Veterinarians and Veterinary Hospitals
www.vetnetwork.com
603-743-4321
No comments yet.
Leave a comment!
« Non-Solicitation Agreements Add Bite to Your Veterinary Contract