Veterinary Facebook Marketing: The Power Of Organic Views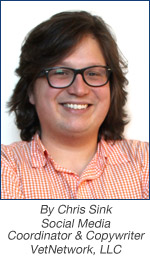 "Like" it or not, Facebook has become an extremely important part of the marketing puzzle for businesses everywhere – and that includes veterinary practices. But while the process of setting up a page for your practice on Facebook may seem straightforward, there's a lot more you need to be aware of to get results through veterinary Facebook marketing.
In this series, we look at different ways to engage with pet owners using Facebook. In this installment, we'll take a look at generating organic views for your veterinary Facebook page's posts.
In a previous blog, we discussed Facebook's new algorithm that determines whether or not people who "Like" your page will actually see your post in their newsfeeds. Over the past year, Facebook has transformed the way Pages works. The overwhelming message from Facebook: If you want everyone who likes your page to see your posts, you're going to have to pay.
This doesn't mean that there aren't organic ways to get your content viewed. Facebook takes the activity a post generates from an initial group of users into account. If your post gets a lot of likes, comments, and shares, Facebook will give the post priority on more news feeds. Facebook calls these types of views "organic views."
So how can you get Facebook to take notice?
Start a Conversation
One of the best ways to get organic views is to encourage visitors to participate with you in some way. One simple way to do this is to ask your Facebook friends a question. When crafting a question, be sure to keep it open ended, and take into account the mindset your visitors may have when they happen upon your post. For example, a post asking pet owners what outdoor activities they have planned with their dogs is more effective on a Friday before a sunny weekend than a cold Wednesday in January.
A Veterinarian's Secret Weapon: Cute Animal Photos
If you haven't noticed, cute animal photos are very, very popular on the Internet. As a veterinary practice, you have a distinct advantage in this arena, with new "talent" coming the
through the door every day. If you see a particularly photogenic feline, snap a picture and post it to your wall (with their owner's permission, of course). This is also an opportunity to subtly advertise any services beyond the typical veterinary care that you offer (for example, boarding or grooming). Keep in mind, though, that it's not usually a good idea to post photos of an animal undergoing a medical procedure; even though you may think nothing of an animal asleep on an operating table, that image can have a negative connotation for some pet owners.
I Can Haz Memes?
Memes can take many forms, but on the Internet, they are often images with captions (think the "I Can Haz Cheeseburger?" cat). If you're seeing a particular meme show up often on your Facebook newsfeed, try making your own with a message unique to your veterinary practice. Not sure where to start? Meme generator websites are just a Google search away.
Keep it Trendy
You should also be on the lookout for current trends on the social media networks that area natural fit with your veterinary practice. "Pet selfies," or a close-up photo of an owner and their pet, have recently caught on, and local newspapers and businesses everywhere are offering pet owners the chance to submit their own pet selfie for a prize. Consider starting a pet selfie contest of your own with a free checkup as a prize.
Infographics
We've written about infographics before, and they remain a very valuable tool for getting organic views on Facebook. While creating the graphics themselves is a time intensive process, companies are often willing to allow others to re-post them for free. We should know – we're one of them.
While these veterinary Facebook marketing suggestions have worked for us and many of our clients, keep in mind that there is no magic bullet for increasing your organic views on Facebook. It's important to try out different strategies and always be monitoring what works and what doesn't. But remember: a successful post is free advertising for your veterinary practice – and that's always a good thing.
Copyright © VetNetwork, LLC
VetNetwork – Marketing Solutions for Veterinarians and Veterinary Hospitals
www.vetnetwork.com
603-743-4321
No comments yet.
Leave a comment!