Custom Design Matters for Your Veterinary Hospital Website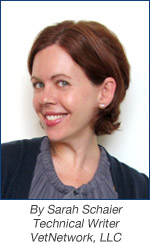 Alena Allegretti joined VetNetwork in February 2012, and is our Lead Graphic Designer and Web Developer. Once your veterinary hospital website goes into design, it is Alena's job to make sure the result is exactly what you're looking for – a role that she takes very seriously. Below, Alena talks about the website design process at VetNetwork and how our exclusive focus on  veterinary hospital marketing means you get a veterinary hospital website that really sets your practice ahead of the pack.
VetNetwork's Collaborative Veterinary Hospital Website Design Process
Sarah:  What is it about our veterinary hospital website design process that makes VetNetwork unique and allows us to really serve our clients' needs?
Alena: Unlike many competitors who rely on design templates, which provide a limited and unoriginal selection, VetNetwork is committed to total customization, ensuring every site is uniquely tailored to our clients' tastes.
Our questionnaires are designed to break down and figure out where our clients' design preferences lie, from what kind of background they find appealing, to what sort of layout strikes them as most attractive. From those questionnaires, our designers build out a homepage design that marries the structure of an effective veterinary website with a customized aesthetic. The designers at VetNetwork have both a classical artistic background and commercial design training, so we're well-equipped to provide customers with beautiful websites that follow rules of good design, incorporate modern trends, and take into account visual psychology for maximum marketing impact.
Once we've provided a client with an initial homepage design, we work closely with them to address any edits or changes they'd like to see, ensuring the design is exactly how they want it before moving forward in production.
We Listen to Your Preferences and Deliver the Veterinary Hospital Website You Want
SS:  What recommendations do you have for a veterinary practice that is considering a new website or website re-design? Is it important that they have some ideas before they contact us and, if so, where should they look?
AA: Know what you like. Spend some time looking at websites, both from our veterinary website portfolio and from your own browsing, focusing on the visual elements involved. Make note of any sites that you really like the look of, veterinary or otherwise, and think about what it is specifically you find appealing. Do you love the colors? The shapes used? What about sites that you find underwhelming? The more specific you can be about your likes and dislikes, the more clearly we can interpret your design ideals into a website that you'll love.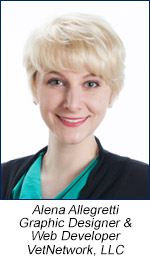 Also take some time to think about your veterinary practice and what characteristics of your business you want to communicate through your image. Do you want to emphasize your calming, professional environment? Or would you rather focus on conveying a sense of warm playfulness? Every practice has its own personality and strengths and knowing yours will help us, as designers, highlight the best parts of your veterinary hospital.
SS:  What are the latest website design trends and how do they impact veterinary hospital website design?
AA: There's a strong current trend in a lot of professional and corporate design leaning toward a sleek, minimalist look.  The notion that "less is more" is very important in design, now more than ever. While you may have ten wonderful things about your practice that you want everyone to know, the more you try to emphasize on your homepage, the less effective any of that emphasis will be. There may be ten things you want to point out, but focusing on just three will make for a greater impact on viewers. Cluttered pages are distracting and unpleasant to look at, and important information gets lost or buried.  Clear and concise design makes for a strong and effective website.
An important factor for veterinary websites is the first impression. When their pets are concerned, people tend to have strong emotional reactions. When potential clients visit your website, you want the first associations and emotional responses they have to be positive. Good design inspires trust, and a selection of appealing photos will elicit warm and fuzzy feelings. VetNetwork's design team is well versed in how to get you that best first impression when clients visit you on the web.
To find out more about what VetNetwork's highly skilled veterinary marketing and design team can do for your veterinary hospital website, please call us at 800-564-4215 today. VetNetwork is a full-service web design and veterinary marketing company dedicated to the needs of veterinary hospitals. Reach, engage, and grow today –  with us.
Copyright © VetNetwork, LLC VetNetwork
Marketing Solutions for Veterinarians and Veterinary Hospitals
www.vetnetwork.com
603-743-4321
No comments yet.
Leave a comment!