SearchLove Part 3: Building Veterinary Brand Loyalty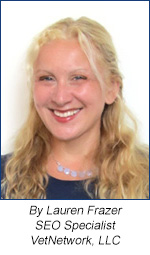 Veterinary Brand Loyalty and How to Get It
In the last two installments of my SearchLove Veterinary Marketing Takeways (with hearty thanks to Distilled's 2014 Boston SearchLove conference), I discussed the importance of the client: knowing who your client or user is, how they operate, and incorporating a "real-time" attitude to better match your clients' needs. In Part 3 of SearchLove Takeaways (think "loves"), we talk about what to do with your customers/clients, once you get them. Read on for important insight into brand loyalty for your veterinary practice: what it is and how to implement it correctly.
Veterinary Brand Loyalty
Every business has a brand, but few know how to maximize its potential. Consider any big brand out there- Pepsi, Toyota, and Nike are all big brand names. The brand signifies the meaning that customers associate with it. As a vet practice, you may have a veterinary hospital logo– but this is just a part of your veterinary brand. Knowing the clear distinction between what the meaning of your practice is and how it is delivered and advertised is vital to differentiating your veterinary hospital from the others, and keeping customers coming back (veterinary brand loyalty) because of it.
Your Veterinarian Brand Loyalty: How to Achieve It Successfully
Branding is a key ingredient to any business' marketing campaign, but how do you do it? Here are some effective tips for creating a veterinary brand loyalty plan of attack that keeps clients coming back:
Know your brand: If you don't have a clear idea of what your hospital stands for as a business, then your potential customers won't either. Sit down and consider what things make you the hospital you are: are you active in the community? Customer-focused? Environmentally-minded? Compassionate? Open to financial assistance?
Promote your brand: Once you have a list of the things most important to your veterinary practice, it's time to create a clear veterinary marketing campaign that promotes all of this in one coherent message across print and internet mediums. The last thing you want to do is to confuse your potential customer. Instead, solidify your veterinary brand, which in turn, will keep them coming back.
Live your brand: Though it would seem to be a no-brainer, often something is lost in the translation between promoting your brand and actually living the brand meaning. This is where loyalty can falter. So, for example, perhaps all your veterinary marketing materials talk about how compassionate your veterinary hospital is or how environmentally-conscious it is, but is every member of your staff as compassionate as you would like them to be? Are all your practices and products at the hospital as "green" as they could be? If not, you can easily turn a loyal customer into a customer who feels betrayed, and that is worse than no client at all.
Veterinary brand loyalty begins and ends with knowing, promoting, and living your veterinary brand; but key to being able to express the best brand for the most vital client retention and loyalty is constantly working to better understand what your client wants, hopes for, feels about the service and products available to their pet. Constantly asking yourself these types of questions and taking action accordingly will always serve success to your hospital.
Copyright © VetNetwork, LLC VetNetwork
Marketing Solutions for Veterinarians and Veterinary Hospitals
www.vetnetwork.com
603-743-4321
No comments yet.
Leave a comment!
« Veterinary Practice Inventory: Is "Santa" Interrupting Your Workflow?