Back to Veterinary Marketing Basics, Part II: Direct Mail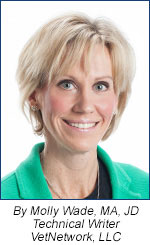 Corner the Veterinary Market with Direct Mail
Direct mail is a veterinary marketing strategy for your veterinary hospital that provides you with an all-around win-win. A powerful marketing tool that generates new clients and additional revenue, veterinary direct mail marketing is a relatively low-cost way to target specific groups and provide immediate, measurable results. How best to achieve success? Begin by understanding "the four Rs" of your hospital's direct mail campaign.
Follow the RIGHT Way
The success of any veterinary marketing campaign begins with knowing your audience. Direct mail veterinary marketing is a complex discipline that requires balancing four important elements to achieve one direct mission. In essence, you need to focus on four "Rs":
Deliver the Right message
at the Right time
to the Right person
in the Right way
Direct mail postcards have a number of attractive advantages for all types and sizes of veterinary hospitals. For a new veterinary hospital, they can be used to generate new clients. For a large or existing practice, they can be used to showcase a new technology or announce a new service. For a veterinary specialty hospital, they can even be used to announce the arrival of a board certified specialist.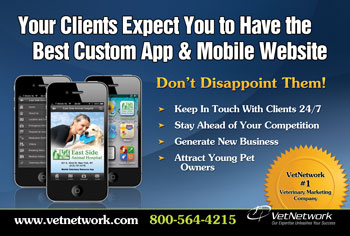 Impress with Flying Colors
An attractive, full-color, oversized postcard makes a great first impression on your prospective veterinary clients. Include warm and inviting photos, a short well-crafted message or even a discount coupon for a free pet exam.
If your postcard is eye-catching, creative and informative, pet owners will keep it on the refrigerator or counter as a convenient reminder of your veterinary services.
Try, Test, Trust
Additional advantages of a direct mail campaign for your veterinary hospital include:
• You can target recipients precisely
• Batch mailing allows protection against an overwhelming response
• Message modification is available for individual batches
• Able to test various messages to determine which campaign works best
Launch a One-Two Veterinary Marketing Punch
Brochures and direct mail postcards complement your online efforts and reach pet owners who you may not be connecting with online. Using print and internet-based veterinary marketing provides a better experience for your clients and a better result for you. Consider communicating with clients first by email and then following up a week or two later by direct mail.
The creative veterinary marketing team at VetNetwork understands your target audience and has the skills to develop the four "Rs" in just the right way. With our professionally designed postcards, your veterinary hospital can motivate existing and prospective clients as only a marketing company dedicated to the veterinary profession can do.
To find out more about how to reach pet owners through a cost-effective direct mail campaign and all that VetNetwork's highly skilled marketing and design team can do for your veterinary hospital, please call us at 800-564-4215 today. VetNetwork is a full-service web design and marketing company dedicated to the needs of veterinary hospitals. Reach, engage, and grow today – with us.
Copyright © VetNetwork, LLC VetNetwork
Marketing Solutions for Veterinarians and Veterinary Hospitals
www.vetnetwork.com
603-743-4321
No comments yet.
Leave a comment!