Veterinary Hospital Apps: Giving Clients What They Want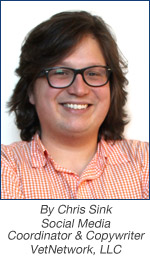 Imagine a constant reminder of your veterinary hospital that is always with your clients. They see this reminder the moment they wake up, just before falling asleep, and dozens of times throughout the day.
This is a reality for businesses with a mobile app. Chances are, Facebook, Twitter, and Instagram all have their logos on your phone's home screen. With a custom mobile app, your veterinary practice's logo will have a permanent home on the one device consumers never leave home without: their mobile phone.
About Veterinary Hospital Apps
A custom mobile app for your veterinary practice gives you the chance to connect with clients directly on their mobile phones. Apps are custom software for mobile phones. Our custom veterinary apps share some functionality with mobile websites, but with the added benefit of additional features, like turn-by-turn directions using a smartphone's built in GPS and "tap to call" functionality.
Mobile App or Mobile Website?
Mobile websites can be useful for pet owners that are not yet aware of your veterinary hospital. But for existing clients, a custom veterinary hospital app offers several distinct advantages.
Apps also allow your veterinary hospital to cut through the noise and distractions of the Internet and communicate directly with your clients. This eliminates the need for clumsy web searches that could lead pet owners to one of your competitors. But more importantly, users prefer apps. According to a recent study, consumers spend 86% of their time using dedicated apps on their smartphones. Without an app, you miss losing out on that sizeable demographic.
Veterinary Hospital App Features
Our veterinary hospital apps are designed to give your clients everything they want at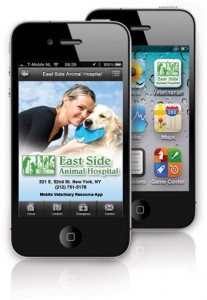 the ouch of a button. This includes your hospital phone number with "tap to call," appointment requests, directions to your veterinary hospital (with turn-by-turn navigation available on phones with GPS), prescription refills, breaking news articles tailored to your location, pet care tips, medical articles, emergency contact information, and more.
For a full list, see our veterinary hospital app page or contact VetNetwork at (800) 564-4215.
More About Veterinary Hospital Apps
You can learn more about our veterinary hospital apps on our website, or by viewing the video below:
An app for your veterinary hospital is not just important, but increasingly necessary. Call VetNetwork today to learn more about how we can develop a customized app for your hospital.
Copyright © VetNetwork, LLC VetNetwork
Marketing Solutions for Veterinarians and Veterinary Hospitals
www.vetnetwork.com
603-743-4321
2 Comments for Veterinary Hospital Apps: Giving Clients What They Want
Leave a comment!
« Veterinary Mobile Websites Keep You Connected to All Pet Owners