Veterinary Mobile Websites Keep You Connected to All Pet Owners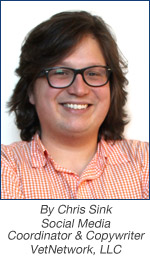 Picture this: a pet owner finds your veterinary hospital's website through a search engine. He or she clicks the link, and is taken to your well-designed and informative full veterinary website. Only this pet owner can't read the text or navigate through the pages to get the information he or she needs. Frustrated, the pet owner gives up on your veterinary practice and ends up with one of your competitors.
Why? Because this pet owner was searching for a veterinary practice on their smartphone.
There are few things more frustrating to a mobile web user than coming across a website that is not designed for smart phones. To avoid users throwing up their hands and ignoring your website altogether, you need to make sure your veterinary website looks great and functions well on both desktop and smartphone platforms. Enter the veterinary mobile website…
Your Veterinary Website Must Be Optimized For Smart Phones
The best way to do this is for your veterinary practice to have two separate veterinary hospital web sites: one optimized for desktop and tablet computers, and one designed specifically for smartphones.
Another way of doing this is to use responsive design. Responsive design can be described as web design that is "device agnostic." With responsive design, a full size veterinary website will scale down to mobile-sized veterinary website automatically. In theory, this allows developers to build just one website that contains all the information a visitor would need, instead of two sites optimized for two different platforms. Sounds great, right?
Responsive Design: Not Always Responsive To Pet Owner's Needs
The problem is that responsive design doesn't take a user's intent into account.  This is especially true for pet owners seeking veterinary care. A pet owner searching for a veterinarian on his or her desktop or tablet computer probably has a different objective than a pet owner doing the same thing on his or her smartphone.
For example, a pet owner using their desktop computer to find a veterinarian is apt to spend more time doing so. Sitting at a desk in front of a large screen allows for careful consideration, and an eye-catching website filled with useful information about your veterinary practice can help pet owners feel comfortable with bringing their pet to your hospital for medical care.
Conversely, a pet owner searching for a veterinarian on their mobile device needs information quickly. They may be on their way to your hospital and need directions. They may have an emergency, or they simply may only have time to book an appointment or take a quick look at your services during their lunch break. Veterinary mobile websites are designed to get them this important information quickly and easily. With a responsive website, something as simple as finding directions can become difficult.
Responsive design can also make your website slower, especially when viewed on a smartphone. The text may be scaled down to accommodate reading on a smaller screen, but all of the information from your full desktop site still remains intact – even if the user will never need it. Having your full veterinary website on a smartphone is just too cumbersome for the smartphone user.
While mobile internet speed continues to improve, it is still a far cry from broadband speeds available in most households. Mobile websites are designed to capture all the fundamental information about your veterinary practice while optimizing the layout. The result: your practice can be found at lightning-fast speeds, no matter what smartphone device pet owners are using to view it.
More Information on VetNetwork's Veterinary Mobile Websites
Responsive web sites may be the latest web design fad, but that doesn't mean it's what pet owners want. VetNetwork can build a veterinary mobile website that is tailored to pet owners' needs. Contact VetNetwork today to learn more.
Copyright © VetNetwork, LLC VetNetwork
Marketing Solutions for Veterinarians and Veterinary Hospitals
www.vetnetwork.com
603-743-4321
No comments yet.
Leave a comment!
« Develop A Successful Veterinary Hospital Marketing Campaign