Veterinary Email Marketing: Get The Response You Want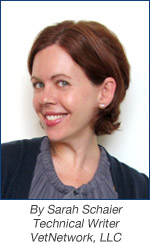 As a veterinarian, you know that often the best outcomes result from using multiple approaches. The same is true for marketing your veterinary hospital. Rather than simply focusing all of your efforts on one advertising channel, different tactics working together drive more pet owners to your practice.
A regular email newsletter, while less "hot" than social media, can help you win more clients and get the clients you already have though your door more often by helping to keep pets' ongoing health needs top of mind among pet owners and building trust and likeability.
If your veterinary email marketing isn't getting the response you want, here are some helpful tips:
Include social share buttons so pet owners can easily share your information on Facebook and Twitter
Make sure your newsletter is configured for mobile device viewing since many pet owners check email on their smartphones.
Give pet owners something for free: valuable pet care advice that doesn't cost them anything goes a long way towards making pet owners like and trust you.
Show gratitude: Thank pet owners for taking the time to read your newsletter and remind them that they are receiving your veterinary hospital newsletter because they are a valued client. Also make sure they can unsubscribe easily. You only want people who truly want to hear from you to receive your newsletter.
Use humor to create a positive emotional response from your readers
Variety is the spice of life: Use a combination of text, photos, and video
Call pet owners to action: implore them to share your content, like you on Facebook, visit your website, or call or email for an appointment
Make them a special offer or discount
Experiment: Utilize the analytics available from your email newsletter software to see what topics get the most attention and what time of day elicits the most engagement. You can then use the information to refine what you write about and the time of day you send your newsletter to pet owners.
Putting together a successful monthly email newsletter doesn't need to be overwhelming. Keep your veterinary email marketing brief. You may find that one or two valuable and timely pet care tips, a piece of relevant news, such as a pet product recall, a cute pet photo or video, and a special offer that will bring pet owners through your door is all you need.
For more information on successful veterinary email marketing campaigns, contact the experts at VetNetwork at 603-743-4321.
Copyright © VetNetwork, LLC VetNetwork
Marketing Solutions for Veterinarians and Veterinary Hospitals
www.vetnetwork.com
603-743-4321
No comments yet.
Leave a comment!