6 Ways to Engage on Your Veterinary Facebook Page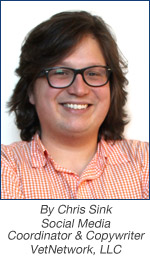 Your veterinary practice has a Facebook page, and you've managed to get pet owners in your community to "Like" the page. You have an audience. How can you turn that into customer loyalty and more business?
Your veterinary Facebook likes mean nothing if you're not keeping a conversation going with your community. Engaging with pet owners on Facebook builds loyalty, increases brand recognition, and makes it more likely that your posts will be seen by others. That's free advertising for your practice.
Not sure how to keep a conversation going on your veterinary Facebook? Here are some ideas to get you started.
1) Pay attention to trends in social media. For example, the Ice Bucket Challenge, which raises awareness for ALS, is a great cause and a good way to add some personality to your Facebook presence.
2) Invite your Facebook followers to post photos of their pets on your wall. Pet owners love to show off their pets, and everyone loves a cute animal.
3) Share your own photos. Have a funny photo of a pet that came to your practice? Get the owner's permission to post it on your Facebook page. Invite users to comment with their funniest caption. The caption with the most likes wins a free checkup for their pet.
4) Curate content from the web. Don't be afraid to share other interesting or funny posts you come across on Facebook. Your followers will appreciate new content, and the person you shared may want to return the favor (which means more views for your page).
5) Experiment. Test different types of posts at different times of day to see which gets the best response. Facebook will tell you when most of your fans are online by clicking on the Insights tab, and selecting Posts. Use this as a guideline for scheduling posts in the future.
6) Keep talking. When a Facebook follower comments on your posts, make sure to always respond to them! This fosters a relationship between your veterinary hospital and the pet owner. It will also mean that more people will see your posts, as Facebook's algorithm favors posts with lots of activity.
Need more help engaging with pet owners on Facebook? VetNetwork's social media experts can help you create content that pet owners will want to like and share. Contact VetNetwork today for more information on our social media services.
Copyright © VetNetwork, LLC
VetNetwork – Marketing Solutions for Veterinarians and Veterinary Hospitals
www.vetnetwork.com
603-743-4321
No comments yet.
Leave a comment!