A New Face at VetNetwork!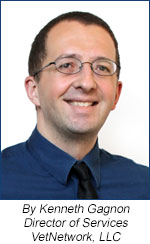 As plenty of our clients and colleagues within the field know, it's an exciting time to be involved with the veterinary industry – especially when it comes to the rapidly evolving world of veterinary marketing. There's a lot going on and always an opportunity to learn something new and better serve veterinary hospitals' needs, and that's why I'm thrilled to be writing to introduce myself as part of VetNetwork.
My name is Kenneth Gagnon, and I'm the newly arrived Director of Services at VetNetwork. Starting a new position is always exciting, but I'm particularly fortunate in my position, as I'll have the unique opportunity to hit the ground running with an established company that's already well-known as an industry leader. In my role I'll be working extensively with our Content and Design groups, focusing on continuing to elevate the quality and delivery of the wide range of services we offer. While our company mascot, Dolly the standard poodle, has been somewhat hesitant to totally trust me – I'd imagine she's suspicious about the smell of my dog, as well as my failure to deliver her with dog treats – the rest of my new colleagues have helped me to quickly immerse myself in everything that we do for our clients. Like I said, it's an exciting time to come on board.
I've benefitted from a wide variety of editorial and management experience during my career thus far, with my most recent prior position being at McLean Communications in Manchester. I'm very excited to have returned to New Hampshire's beautiful seacoast, however, and I can't think of a better way to start my next chapter than as a part of the VetNetwork team. You can look forward to hearing much from me in the weeks and months to come.
Copyright © VetNetwork, LLC
VetNetwork – Marketing Solutions for Veterinarians and Veterinary Hospitals
www.vetnetwork.com
603-743-4321
No comments yet.
Leave a comment!
« Veterinary Yelp Reviews: What The New Yelp Ruling Means For Your Practice