Why Your Hospital Needs a Mobile-Friendly Veterinary Site Now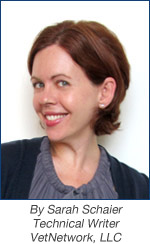 Have a mobile-friendly veterinary website? On April 21, Google will launch a mobile search algorithm change that will give ranking preference to websites that are mobile-friendly. A mobile-friendly site is either a mobile site designed specifically for mobile users or a responsive site that adapts automatically to the device it is being viewed on (such as a mobile phone, a tablet, etc.). The latest information from Google is that the rollout of this algorithm – the impact of which the company describes as "significant" – could take up to a week to complete.
What does that mean for your veterinary hospital? If your veterinary hospital doesn't have a mobile or responsive website, you may see your placement in search rankings plummet after April 21.
Mobile Search: Everyone's Doing It
Google's move to change their mobile search algorithm is far from arbitrary. According to Thrive Analytics' Local Search Report, mobile devices are now used more often for local search and to find local information than desktop and laptop computers. Sixty percent of U.S. adults typically choose smartphones or tablets to find information before buying products and services offline. The April 21 algorithm change shows Google is paying attention to these users' habits and wants to enhance the quality of their experience.
So…if you don't have a mobile-friendly veterinary site, it's time to seriously consider investing in one. Here are your choices.
Mobile Veterinary Site
If you already have a full website you're happy with, a mobile veterinary hospital website may be your best bet. Mobile sites are:
Simple and easy to navigate
Customized for mobile users seeking essential information about your veterinary hospital
Consistently linked by research to a higher conversion rate
Linked to your full website
Cost-effective to design and produce
In short, your mobile website loads quickly and gives pet owners exactly what they need to know about your hospital without significant up-front cost to you.
Responsive Veterinary Site
If you're considering a new veterinary hospital website or a redesign, responsive design is an option to consider. A responsive website automatically instructs a user's device – desktop computer, laptop, tablet, smartphone – on how to display your content for optimal readability, regardless of screen size. The benefits of a responsive site include:
You can be assured that clients and potential customers see the most visually appealing version of your content no matter how they access your website
Responsive design preferred by Google (although according to Google Webmaster Gary Illyes, responsively designed websites will not be given a ranking benefit as a result of the April 21 algorithm change)
You have a single URL, rather than one for your full site and one for your mobile site
While responsive design requires a higher up-front investment, the capital you invest in your web presence now differentiates you from your competitors by placing your veterinary hospital squarely on the cutting edge of where web design is headed.
Go Mobile or Go to Page Two (Or Worse)
Want to make sure your veterinary hospital's website stays on the first page of Google mobile search results? Get started today by taking advantage of VetNetwork's limited-time offer. Until April 30, sign up for a custom mobile website for your veterinary practice and receive 30% off the normal price. It's easy – just click here.
VetNetwork is owned and operated by a veterinarian with 20 years of hospital ownership experience, and is staffed with a team of marketing experts that are dedicated to growing veterinary practices. For more information about our veterinary hospital marketing services, please give as call at (800) 564-4215 or send us an email today.
Copyright © VetNetwork, LLC
VetNetwork – Marketing Solutions for Veterinarians and Veterinary Hospitals
http://vetnetwork.com
603-743-4321
No comments yet.
Leave a comment!