Veterinary Marketing 101: Selling Preventive Care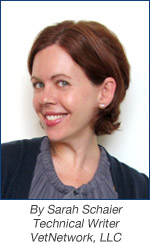 All responsible pet owners bring their pets to their veterinarian when they are sick or injured. According to the 2014 Bayer Veterinary Care Usage Study, however, 32% of pet owners believe it is only necessary to bring their pets to the veterinarian for an illness or injury. So, how do you effectively convince pet owners to bring in their pets for regular preventive care when all is well? Implement a veterinary marketing strategy that focuses on education, health benefits and pet owner concerns.
Think Beyond the Reminder Postcard
As a veterinarian, you know regular preventive care has many benefits for pets and their owners, but your clients may need more than a once or twice a year reminder. Fortunately, regularly communicating with your clients is easier than ever.
Use your veterinary hospital website, blog, email newsletters, Facebook and Twitter to maintain an ongoing dialogue with your clients about the importance of regular pet wellness check-ups. Each of these platforms are great for broadcasting the many benefits of scheduling regular preventive care for their pets, including:
Sharing photos of happy pets leaving your office after their wellness examinations
Profiling pets who had a health issue solved quickly and easily because of preventive care
Discussing new technology or treatments for certain common conditions
Talking about parasite risks and the importance of testing
Letting pet owners know all the steps you take to make visits stress-free and easy
The goal is not to blatantly sell your services – that's a huge turn-off to all consumers – but to talk to pet owners to develop their understanding and engage with them emotionally. Appeal to their desire to make sure their pets are healthy and happy. That's where veterinary marketing becomes effective.
Address the Cost Issue
Unfortunately, many pet owners avoid wellness examinations due to financial concerns. While some will be won over by education and emotional appeals, others may be stymied by the price tag.
To bring these pet owners through the door, you should consider some cost-saving options or incentives:
Develop structured Wellness Care Plans that include scheduled, spread out lower payments
Offer pet owners a discount off their next wellness exam if they schedule an appointment today
Discuss veterinary insurance options
Make a donation to a local shelter every time a pet comes in for a wellness exam. While it's not a discount, it appeals to pet owners – particularly millennials– who like to spend their money in ways that make a difference.
Keep Your Practice Healthy
Preventive care appointments not only keep pets healthy, they keep your veterinary hospital healthy, too. For that reason, you should be doing everything you can to ensure as many of your clients as possible schedule preventive care visits. It won't happen without a solid veterinary marketing strategy. According to Kim Fernandez in AAHA's March 2015 Trends magazine, "Practices who've done it right have seen jumps in their number of routine care visits."
For help with veterinary marketing and branding tactics that will increase your veterinary hospital's wellness care appointments, call the veterinary marketing experts at VetNetwork today. We are dedicated to providing you with proven solutions that grow your practice.
VetNetwork is owned and operated by a veterinarian with 20 years of hospital ownership experience, and is staffed with a team of marketing experts that are dedicated to growing veterinary practices. For more information about our veterinary hospital marketing services, please give as call at (800) 564-4215 or send us an email today.
Copyright © VetNetwork, LLC
VetNetwork – Marketing Solutions for Veterinarians and Veterinary Hospitals
http://vetnetwork.com
603-743-4321
1 Comment for Veterinary Marketing 101: Selling Preventive Care
Leave a comment!