Veterinary Hospital SEO: My Return to Distilled's SearchLove Conference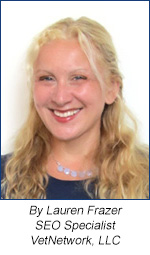 As VetNetwork's Veterinary SEO Specialist, my foremost concern is improving and maintaining our clients' search rankings; after all, the easier it is for potential clients to find your veterinary hospital, the easier they'll find it to schedule an appointment and walk through your doors.
That commitment to giving you the edge you need to boost your bottom line means constantly striving to stay ahead of the game and learn about where the search industry is headed next. This past week, I attended Distilled's 2015 SearchLove Conference to get the inside scoop on the future of the search and digital marketing industry from some of its most talented minds.
Your Veterinary Hospital SEO Advantage
The SearchLove Conference was held in Boston, a short drive south of our office. As may remember from my SearchLove 2014 report, the conference focuses on the latest advancements, methods and strategies of the elusive and mercurial beast: Google.
Here's a rundown of SearchLove 2015:
Presenters
Brian Massey, Conversion Scientist
Casie Gillete, KoMarketing
Tim Wilson, Web Analytics Demystified
Craig Bradford, Distilled
Bridget Randolph, Distilled
Larry Kim, Wordstream
Jeremy Goldman, Firebrand Group
Justin Briggs, Briggsby
Rand Fishkin, MOZ
Craig Hughes, Unruly
Dana DiTomaso, Kick Point
Eppie Vojt, Red Ventures
Mark Johnstone, Distilled
Britt Klontz, Distilled
Kyra Kuik, Distilled
Luke Summer field, Hubspot
Ian Lurie, Portent
Amanda McGowan, SEER Interactive
Search Topics
Mobile Test Results: What Mobile 2.0 Will Look Like
Customer Experience and Its Impact on Search
Digging for Analytics Treasure
Creating Your Digital Strategy
Shocking : Get Traffic Fast with This One Weird Trick Discovered by Rand Fishkin
Mad Science of PPC Marketing for Inbound Marketers
Why Social Media and ROI Do Go Hand in Hand
Mobile Search: Why You Need to be More Than Mobile-Friendly
SEO and Web Marketing Trends of 2015
Beyond the View Count: Measuring Video Performance
Your Brand in 95 Characters
From Rankings to Full Funnel Ownership
Creating a Framework for Content Marketing Campaigns
Brain-Based Conversions! Using Psychology and Neurology to Influence Behavior
No More Scrambling: Search Leadership Tactics
How to Avoid 'Top Ten Data' Syndrome: The Most Undervalued Analytics Reports
Last year, I had a blast, met some of the leading voices in internet marketing and learned volumes of cutting-edge SEO tactics and methods. This year, which included the latest insights on mobile search/apps and content marketing and user engagement, certainly did not disappoint. I'm compiling my notes and slides for use in your SEO campaigns to get even better rankings and engagement for your practice. Stay tuned for a few in-depth reports!
VetNetwork is owned and operated by a veterinarian with 20 years of hospital ownership experience, and is staffed with a team of marketing experts that are dedicated to growing veterinary practices. For more information on our veterinary SEO services, please give as call at (800) 564-4215 or send us an email today.
Copyright © VetNetwork, LLC
VetNetwork – Marketing Solutions for Veterinarians and Veterinary Hospitals
http://vetnetwork.com
603-743-4321
No comments yet.
Leave a comment!