Five Veterinary SEO Mistakes You Can't Afford To Make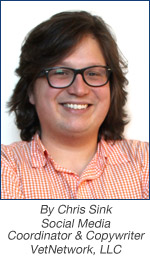 Proper veterinary search engine optimization, or SEO, is one of the best ways to make sure that pet owners in your area can find your website. Get it right and your veterinary hospital website can end up as one of the first results for web searches. Get it wrong and your web traffic may slow to a crawl.
Here are five common search engine optimization mistakes:
Not having any
Search engines like Google are in the business of helping people find exactly what they're looking for. Automated scripts crawl the web looking for certain information to put websites in context, but that information has to be in the right place in order for the search engine to match your website with the specific search terms that pet owners will use to find it. This is the basis of search engine optimization, and if you ignore this step, your website may as well not even exist.
Keyword stuffing
Search engines use the text on your website to help determine its most relevant search terms. So why not work the phrase "best veterinary hospital ever" into every other sentence? As it turns out, many people already tried that, and Google caught on. If its robots detect keyword stuffing, Google will banish your page to a lower rank – or even remove it from its index altogether.
No keywords
The above doesn't mean that keywords are useless. In fact, using keywords correctly is still an important part of proper search engine optimization. Knowing where, when, and how to use them is paramount, and can often mean the difference between a page one or page two rank.
Poorly written content
Google's web indexing robots aren't sentient yet, but they have become discerning readers. A poorly written veterinary website is of no interest to anyone. Google knows this, so the quality of the writing on your website can have an effect on its rank. But that doesn't mean you should add just any content to your website. The content needs to be relevant to your business and helpful to your customers.
Using outdated veterinary SEO strategies
Search engine algorithms are always changing (you might have heard about Google's latest change). It's up to you to adapt. Staying on top of these changes is the key to keeping your website at the top of page one on Google and Bing. Ignoring them could make your site invisible to potential customers.
Worried you're making these top veterinary SEO mistakes? VetNetwork can help – our veterinary search engine optimization packages have helped practices in markets of all sizes thrive. Contact us or visit our veterinary SEO page for more information.
Copyright © VetNetwork, LLC
VetNetwork – Marketing Solutions for Veterinarians and Veterinary Hospitals
http://vetnetwork.com
603-743-4321
No comments yet.
Leave a comment!
« Veterinary Hospital SEO: My Return to Distilled's SearchLove Conference