Here's Why You Should Have A Veterinary Blog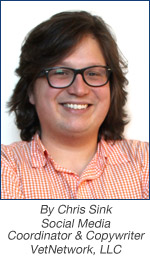 Looking for a new way to reach new clients and engage existing customers through your veterinary website? A blog is an easy, cost-effective way to both broaden your scope and keep current pet owners coming through the door.
Blogging can build credibility and trust, humanize your veterinary practice's brand, establish your practice as an area authority on veterinary medicine, and help with your veterinary practice's SEO. According to a survey from HubSpot, 57% of companies blogging said they acquired new customers as a direct result of their company's blog.
Here are a few more benefits of veterinary blogging:
Veterinary blogs give pet owners an excuse to share. If pet owners find your content useful, they'll be happy to re-blog your post or share your post on social media with other pet owners. That's easy, cost-effective word-of-mouth veterinary marketing.
Blogging invites valuable feedback from pet owners. Most blogging software includes comment functionality. Encouraging your readers to comment can help you start a two-way conversation with pet owners.  
Blogging can help you build trust with pet owners. Pet owners want the very best for their pets. Blogs help you put a friendly face on your practice, building a relationship with pet owners before they even walk in the door.
A blog will increase your veterinary hospital's search ranking. Search engines love websites with fresh, relevant content. Regular blogging will help your veterinary website show up on Google when pet owners in your area are looking for a veterinary practice.
Starting a blog takes time and dedication. You can expect to build your audience slowly over time. However, the benefits can be huge when you have a strategy that's executed well.
VetNetwork can help with your veterinary practice's blog every step of the way, from setting up the infrastructure to writing custom articles that specifically target pet owners in your area. If you would like more information on starting a veterinary blog, please contact VetNetwork.
Copyright © VetNetwork, LLC
VetNetwork – Marketing Solutions for Veterinarians and Veterinary Hospitals
http://vetnetwork.com
603-743-4321
No comments yet.
Leave a comment!