You Need A Quality Veterinary Website. Here Are Five Reasons Why.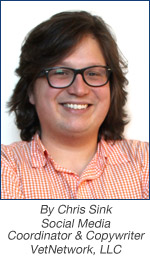 Does your veterinary website reflect the high standards of your veterinary practice? If you're not sure, studies show that you could be missing out on potential business.
Your web presence serves as a first impression to many prospective clients. A confusing, out of date website that's short on content can be a red flag for pet owners who are interested in receiving the best possible veterinary care. A quality veterinary website, however, can quickly translate into growth for your veterinary practice.
Still not sure? Here are five reasons you need a quality veterinary website.
Branded websites are the #2 most trusted advertising source. According to a study from Nielsen, websites for brands – which, in this case, is your veterinary practice – are the second most trusted advertising platform for consumers. Only word-of-mouth ranked higher. Your veterinary website presents a unique opportunity to tell pet owners about what makes your practice special – and they'll listen.
Search engine optimization will get you noticed. A quality website includes search engine optimization, ensuring that Google and other search companies will list your veterinary website at the top of relevant search results. According to Google, four out of five people use search engines to find information about local businesses.
Quality websites foster trust. A study from BrightLocal demonstrates that a high quality website's impact is huge. 66% of those surveyed said that a good website gives a business more credibility; that they are more likely to contact a business if they have a website; and that they trust a local business more if they have a website.
Poor websites drive people away. In the same study, BrightLocal found that the top 3 things that would influence a potential customer not to contact a local business are: no physical address on the website; a site that is slow to load; and an ugly or poorly-designed website.
Quality websites help grow your veterinary brand. Solid branding helps you distinguish your veterinary hospital from other area practices. A website that reflects your brand is an essential step in showing pet owners what makes your practice special. A cookie-cutter template website is a forgettable experience. A beautiful, custom-designed website, however, can make a lasting impact.
Worried your veterinary website may be lacking? The experienced team at VetNetwork can help you get back on track. Take a look at some of our work and contact us today for more information.
Copyright © VetNetwork, LLC
VetNetwork – Marketing Solutions for Veterinarians and Veterinary Hospitals
http://vetnetwork.com
603-743-4321
No comments yet.
Leave a comment!