Dr. Mark Feltz Discusses Veterinary Marketing in Bank of America Newsletter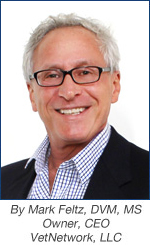 VetNetwork's owner, Dr. Mark Feltz, recently chatted with Bank of America about marketing strategies for veterinary practices. In the bank's recent newsletter for business owners, Best Ways to Market and Promote Your Veterinary Practice, Dr. Feltz discusses the importance of an optimized veterinary website:
"…Every veterinary practice should have an optimized website. Dr. Mark Feltz, founder and owner of VetNetwork says that 'the pages should be clear and easy to navigate, with content that is updated regularly. A website can humanize the practice with personal information about the doctor and staff, professional photos of people enjoying their pets, and patient benefits that are confidently spelled out. Veterinarians that optimize their websites for mobile devices—with concise copy, directions, and a click to call button—can leverage their advantage'.

"'If there are pet food recalls or a disease affecting your area, a vet's website should be the source for a pet owner in that town,' Feltz says."
In the newsletter, Dr. Feltz also discusses the benefits of direct mail campaigns. Check out the full newsletter here.
Copyright © VetNetwork, LLC
VetNetwork – Marketing Solutions for Veterinarians and Veterinary Hospitals
http://vetnetwork.com
603-743-4321
No comments yet.
Leave a comment!
« Five Reasons Your Practice Needs A Mobile Veterinary Website