Five Reasons Your Practice Needs A Mobile Veterinary Website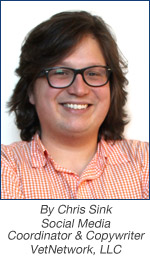 Is your veterinary practice mobile-device friendly?
If browsing your veterinary website on a mobile device brings up a crowded mess of graphics and text, you could be missing out on potential business. A mobile veterinary website will bring you better search engine rankings and connect you with pet owners ready to schedule an appointment right away.
Here are five statistics and facts that will show you just how essential a mobile web presence has become:
In 2014, 52 percent of all local searches were done on a mobile phone. That number is still growing. Pet owners are looking for nearby veterinary hospitals on their mobile phone. If they can't navigate your website when they reach it, they're more likely to visit a competitor.
9 out of 10 mobile phone searches result in a purchase or visit. Many pet owners aren't leisurely browsing the web on their mobile device. Because of mobile device's small form factor, they're less likely to be distracted by the dozens of programs and applications they run on their desktop. They're looking for a veterinary practice quickly and are ready to take action.
74 percent of consumers wait only five seconds for a website to load on their mobile device before moving on. A fully fledged desktop site can
take longer than that, depending on the device's connection. Mobile websites are optimized for speed and ease of use, ensuring that your veterinary practice's phone number is at their fingertips right away.
Search engines favor mobile-friendly websites from mobile searches. A top-ranked desktop website may not be top-ranked when a pet owner searches for it on their mobile device. This is because search engines know what type of device is using their service and often prioritize mobile-friendly websites over those that are not.
Over 90 percent of small businesses do not have a mobile website. Despite all of this data, many small businesses lack a presence on the mobile web. The good news? Investing in a mobile veterinary website will give you a distinct advantage over your competitors.
VetNetwork's mobile veterinary websites are designed to give pet owners the best possible experience while learning about your veterinary practice on the mobile web. Our mobile websites are designed to work on all types of mobile phones and incorporate features like turn-by-turn directions and click-to-call that pet owners expect. For more information on our veterinary mobile websites, please contact VetNetwork today.
Sources: Visual.ly, USA Today, SCORE
Copyright © VetNetwork, LLC
VetNetwork – Marketing Solutions for Veterinarians and Veterinary Hospitals
http://vetnetwork.com
603-743-4321
No comments yet.
Leave a comment!
« Make Veterinary Direct Mail A Part of Your Marketing Strategy