9 Ideas for Social Media Content for Your Veterinary Practice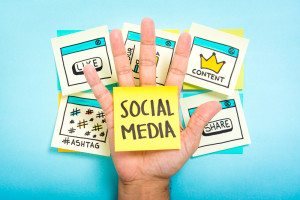 Most businesses in the modern age use some form of social media. Your veterinary practice should be no different. If your practice is not on social media, you are already falling behind your competition. For those who do have it, you may find it progressively more difficult to come up with new and engaging ideas for social media posts.
At times, you may find it difficult to come up with new and engaging ideas for social media posts. Even for those who are posting regularly, how can you be sure you are posting the right kind of content?
Here is a list of 9 things you can post on social media that are time efficient and helpful to your practice:
Blog Posts – Although this may be one of the more tedious options, it is important for both old and new patients to hear from you. Check out this article to learn more about blogging.
Short Videos – If you attend an event or have something in office that you'd like to share, make a short video (5-25 seconds) and share it!
Patient Feedback – People like to hear testimonials from other people before they try something new. Having patient feedback on social media can be a helpful way to make potential patients recognize your professionalism.
Announcing events or awards – Have an award to share? Attend an event, conference, or convention recently? Share photos or information from these events with your followers on social media.
Photos of people in your practice– Potential patients want to know who they're going to be dealing with before they even come to your office. Posting pictures of you and your employees allows them to become familiar with your practice before coming in.
Employee profiles – This is just another way new/potential patients can familiarize themselves with your practice before they come in to the office. Keep it short and personable. If people feel like they know you already, they won't feel like total strangers when they come to your practice.
Pet photos – This is your thing, it's what you do. Animals are funny and cute, and it just so happens you already know that most of (if not all) your followers are animal lovers. Keep it original and keep it light.
Third party content – Nobody says that all your social media content must be totally original. If you read an article about canine health that you think your followers could benefit from reading then share it with them.
Previously published posts – It's ok to republish older social media posts, especially ones that garnered lots of engagement from your followers. However, you shouldn't post the same successful post every week. Maybe once every 2-3 months so new patients see it, but old patients don't get irked and unfollow you.
Social media can be a powerful marketing tool when used correctly. It's even more powerful when used in a way that is genuine and likable. Most people can tell when your social media posts aren't personalized. Keep them guessing using these 9 ideas for social media posts.
No comments yet.
Leave a comment!