6 Mistakes to Avoid When Buying a Veterinary Practice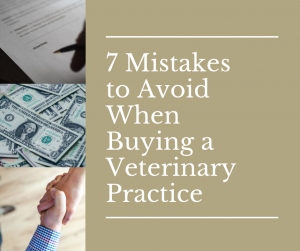 Buying a veterinary practice is one of the most important decisions you will make in your professional career and will greatly affect future business and retirement options. Making an educated decision can provide you with considerable cash flow for several years to come. It is crucial that you start planning your future now so that you can see a high return later. You will need an experienced team of advisors, a clear vision of your goals, and a complete understanding of potential acquisitions available. Use this guide to help navigate the process of buying a veterinary practice and avoid these common mistakes that can potentially set you up for failure.
Getting involved with a seller who is not ready to sell. Some veterinarians look to sell their practice in order to retire, but still expect to stay on part-time to keep an eye on the place. This can be beneficial for a period of time in order to make a smooth transition, but this period should have an end in sight. If communication is unclear from the very beginning, your negotiations with the seller could potentially fall through and waste the time of everyone involved. Make your intentions of the negotiation clear so that the seller can determine if they are comfortable with letting go. If you get the sense that the seller may have cold feet, consider looking for other options.
Not hiring a team to handle the business dealings of the transition. There should be a network of people that you trust to help you through this process so that they can help you put yourself in the best possible position financially. There are certain things that you will simply not be able to handle on your own. Your team should consist of an accountant, a financial advisor, and an attorney. Be sure that each member of your team has experience with veterinary acquisitions specifically and understand their fees before doing any business with them. Everyone involved in the process should have a clear understanding of your goals for the purchase.
Trying to "win" the negotiation. If you go into this process trying to get the upper hand over the seller you are communicating with, things can go south very quickly. Once you find a seller you would like to buy from, develop a dialogue so that you can both understand what each other needs out of this exchange. Having a professional relationship with the seller will allow you to have a smooth transition and a positive start to this new chapter. While you want to set yourself up in the best possible position financially, that should not come at anyone else's expense. Find a solution that will satisfy all parties involved.
Rushing into a partnership without testing the waters. Sometimes things just don't work out for whatever reason, which is exactly why you should never move into a partnership with someone without an associate term. This will give both parties a chance to understand each other's management style, professionalism, and leadership skills. Rushing into a partnership without fully understanding the person you are committing to can be disastrous for both your business and career. Assuming the partnership will work out could potentially destroy your hopes of one day purchasing the practice, and you could waste a lot of time that may be better suited elsewhere.
Paying too much. This is obvious, but no one wants to lose money on a business deal. However, things can be confusing if you have never purchased a practice before and you could potentially get yourself in some hot water if you're not careful. You are not only buying the practice as it currently is, but you are investing in its future. The current asking price may not exactly reflect the future value of the practice, so you'll have to do some research to avoid overpaying on your veterinary practice acquisition. Take a look at the local market and see where the cash flow is coming from. If you sense that things may slow down within the next few years, maybe offering lower than the asking price would be more appropriate. Truly take some time to understand the market before jumping to conclusions. Bring these points up to your team so that you can determine the appropriate figure you are willing and able to provide.
Underestimating the potential to grow the practice. What happens to this practice will be completely up to you, so get creative. Take a look at what the practice currently offers and try to determine if there is potential to add new, more advanced services. Consider the online marketing of the practice and try to envision how you can give it an update. Add a website, improve social media marketing, offer specials for new or existing patients. Show the community that you are there to provide the best possible care for them and their families. Having a clear vision for how you will guide this new chapter could end up giving you a much higher investment rather than just sticking to what is currently working.
About the Author
Nora Hughes graduated from West Chester University in 2018 with a degree in Communication Studies. Since 2016, Nora has interned at various companies with a focus on marketing and social media. Nora joined VetNetwork in 2019 as a writer which allows her to pursue her passion for writing, animals and digital marketing.
No comments yet.
Leave a comment!