Getting Back to Veterinary Marketing Basics, Part I: Veterinary Brochures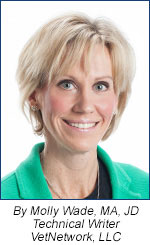 Push the Envelope- and Place a Veterinary Brochure Inside
Veterinary marketing brochures are among the most versatile tools you can use to inform clients of your veterinary services.   Even in today's technology-driven world, don't underestimate the value of a colorful, interesting and professionally-designed veterinary hospital brochure for attracting new clients.
Provide a Brochure Buffet in Your Veterinary Hospital

With eye-catching design, compelling text, and professional photos, your veterinary brochures have the power to highlight the benefits and services of your veterinary hospital unlike other marketing tools. They serve as tangible, in-hand advertisements as to why your veterinary clinic stands out from your competition. They can also help you explain a special service you provide or educate your clients on a particular point of interest.   
Offering a choice menu of veterinary hospital brochures inside your reception area can whet your clients' appetite for learning more about your veterinary hospital and the services you offer. Some suggestions for veterinary brochure topics may include:
AVMA Guidelines
Feline Diabetes
Emergency Preparedness
Puppy/Kitten FAQs
Let Your True Colors Shine Through
Colors impact body and mind by stimulating our physiology and mental states. Thus, the colors you choose for your veterinary hospital's brand and print materials are crucial for expressing the tone of your practice. Your colors should appear not just on your brochure but also on your logo, postcards, and all your hospital literature.
Your veterinary brand colors should set you apart from other veterinary hospitals, establish a promise to your clients and their pets, integrate well within the veterinary industry and create a positive image of who you are.
Show Dr. Google to the Door
With Dr. Google constantly wielding his imaginary stethoscope at your clients through their computer screens, veterinary brochures can serve as an important emergency service to your veterinary hospital.  Give pet owners an in-hand resource that emphasizes the value and importance of veterinary care and you've met Dr. Google on his own turf- at the intersection between animal health information and credibility.
Additional advantages of veterinary hospital brochures:
      

Pique client curiosity and leads prospective clients to your door

      

Allow you to communicate your pet care philosophy, wellness services and advanced care treatment options

      

Educate clients on the value and benefits of your services

      

Support and augment your verbal messages

      

Provide a reference for your clients to review after the appointment
Every element of your hospital's marketing effort must be aligned with your brand, including your brochures. The experts at VetNetwork know how to help you define your brand and create a veterinary marketing plan that clearly differentiates you from your competitors. Pet owners expect more than just good service at reasonable prices; they want to identify with your brand. VetNetwork ensures that your veterinary marketing efforts do just that.
Call VetNetwork today and together we can develop the brochures best for you and your veterinary hospital: 800-564-4215.
To find out more about veterinary brochures and all that VetNetwork's highly skilled marketing and design team can do for your veterinary hospital, please call us at 800-564-4215 today. VetNetwork is a full-service web design and marketing company dedicated to the needs of veterinary hospitals. Reach, engage, and grow today –  with us.
Copyright © VetNetwork, LLC VetNetwork
Marketing Solutions for Veterinarians and Veterinary Hospitals
www.vetnetwork.com
603-743-4321
No comments yet.
Leave a comment!