Develop A Successful Veterinary Hospital Marketing Campaign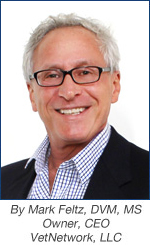 Today in Veterinary Marketing
Veterinary hospital marketing has changed. What may have been successful just 10 years ago is probably not going to attract today's savvy pet owners. Even with a great veterinarian reputation, there is no guarantee that your veterinary practice will continue to grow and thrive.
Word-of-Mouth No Longer Enough
Good word-of-mouth reputation and having a small ad in the yellow pages are no longer the preferred marketing strategies for attracting new clients to your veterinary hospital. Facebook, Google+ and other social media platforms have replaced word-of-mouth and websites have replaced yellow page ads. Most people send texts and post information on Facebook and Google+ when they have something to say about their veterinarian, whether it's bad or good.
And There's More Industry Competition
It's not just the Internet that's to blame for the changes. There are more and more new practices springing up, more veterinary school graduates in the workforce and more veterinarians wanting to own practices. Big box stores, feed stores, human pharmacies and pet vaccine clinics are all taking their slice from the veterinary revenue pie.
You Need to Stay Current to Compete
In order to remain successful, attract new technology-savvy pet owners and prevent clients from purchasing their medications from other retail sources, a comprehensive veterinary marketing strategy is necessary.
Your veterinary hospital's marketing strategy should include:
1. A Marketing Budget To Grow Your Practice
That's right: you need to spend money on marketing in order to grow your veterinary practice. The days when practice revenue grew exponentially year after year are over. Today most hospitals are experiencing a plateau in revenue and growth. Discuss a budget with your accountant or financial planner. Successful hospitals spend at least 2-4% of their net sales on marketing.
2. Focus On The Benefits For Your Clients
Forget about how beautiful your hospital is and how much money you spent on your x-ray machine and waiting room fixtures. Your clients want to know about your extended hours, house call visits, affordable rates, early morning drop offs, courteous staff and medical supervised boarding. Tailor your advertising to the average pet owner, not your ego.
3. Figure Out Your Message And Stick To It
Like your logo, your message should be simple, easy to remember and effective. Don't try to be everything to everybody. Smith Animal Hospital – Courteous Staff, Affordable Rates and Evening Appointments.
4. Keep It Simple
Don't clutter your ads. Everyone knows to bring their pet to a veterinary hospital when it's sick, needs vaccinations or surgery. Don't turn your marketing message into a menu of services that you offer. Instead, stick to a few key benefits that your clients will appreciate the most.
5. Include A Call To Action
You may be voted the best veterinarian in Phoenix, but the hospital offering house calls and multiple pet discounts will probably be more successful in attracting new clients.
6. Use The Best Mediums Possible To Get Out Your Message
Divide your marketing budget so you have money for a logo, an excellent custom veterinary website that reflects the quality of your practice, a colorful and engaging veterinary hospital brochure, pet hospital business cards and a custom veterinary hospital app.
A custom app for your veterinary hospital is an outstanding marketing tool as it lives on your client's smartphone and reminds them of your hospital 24 / 7.
7. Hire An Experienced Marketing Company That Understands Pet Owners And The Veterinary Profession
VetNetwork, owned and managed by a veterinarian with more than 20 years of hospital ownership experience, is the only company that can make this claim. We are 100% dedicated to helping veterinarians like you attract new clients, increase business and generate long-term growth.
Call VetNetwork today. We're the veterinary marketing company that works within your budget and gets you results.
Copyright © VetNetwork, LLC VetNetwork
Marketing Solutions for Veterinarians and Veterinary Hospitals
www.vetnetwork.com
603-743-4321
No comments yet.
Leave a comment!