VetNetwork Spotlight: Renee Landers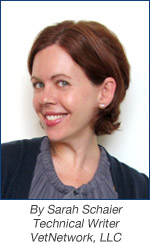 If you've called VetNetwork's offices recently, chances are you've spoken to Renee Landers, our new sales and customer service representative. A Berwick, Maine native, Renee returned to New England after adventures that led her as far away as Alaska, where aluminum foil wasn't just kept in the kitchen – she also used it as a window cover to block out the midnight sun. Her resourcefulness, eagerness to tackle new challenges, and of course her warm, helpful disposition are all great additions to VetNetwork. Call VetNetwork to hear her dulcet voice today!
VN: What attracted you to VetNetwork?
RL: It's incredibly appealing to work for a company that helps veterinarians build their best possible practice. A huge part of job satisfaction to me is feeling like you do something worthwhile. I get to be part of a team that provides a crucial service to people who make a difference every day in the lives of pets and their owners alike. As an animal lover and the pet parent of two cats, I feel great about what we do.
VN: You have a strong customer service background. What sets VetNetwork's approach to customer service apart from other web design and marketing companies?
RL: VetNetwork takes the time to cultivate a more personal relationship with our clients. When you call our office, you reach a team who already knows who you are, is happy to hear from you, and is genuinely devoted to your success. That's a far cry from being just another number for a different company.
VN: You've had some interesting life and work experiences prior to joining the VetNetwork team. Tell us about some of the most memorable.
RL: I spent four years in Alaska attending the University of Alaska Fairbanks, which is definitely a story in and of itself. I also spent a year and a half working for Walt Disney World in Orlando. I suppose you could say that I've had a few experiences that are outside of the norm.
VN: How have those experiences impacted who you are today?
RL: Everyone should have the opportunity to step outside of their comfort zone and do something different. You won't know what you really want until you get out there and try on the different options. I've gone through every door that was open, and taken every opportunity presented to me. It's led me on quite the path so far, but I've always believed in taking chances.
VN: When you aren't busy building and strengthening VetNetwork's relationships with our clients, how do you like spending your time?
RL: Outdoors with my family. We camp a lot, we play a lot, and we love a lot.
Copyright © VetNetwork, LLC
VetNetwork – Marketing Solutions for Veterinarians and Veterinary Hospitals
www.vetnetwork.com
603-743-4321
No comments yet.
Leave a comment!
« Can Collecting Data on Local Pet Owners Help Your Practice?