Digital Veterinary Marketing Trends for 2015 You Need to Know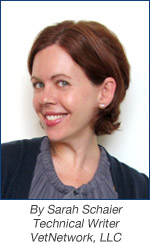 Four of the 2015 digital marketing trends discussed by Avi Dan on Forbes.com are particularly important for your veterinary practice. Below, we explain how you can take advantage of each of these digital veterinary marketing trends to make a positive impact on your veterinary practice.
Authenticity and Transparency: You may have heard the word authenticity used to describe newer, more genuine marketing approaches that are an antidote to spin-style, hard-sell messages that feel impersonal and jargon-packed. This marketing strategy is particularly effective among millennials. Now, digital marketers are taking authenticity and "kicking it up a notch" by adding transparency to the mix.
What does this mean for you? Speak honestly and directly to pet owners on your website and social media posts, and when responding to pet owner concerns and complaints on review sites. It is important to demonstrate that you understand your clients and what they want from you. Make yourself part of your practice's story so clients really feel a personal connection to you. You will be rewarded by pet owners' trust and loyalty.
Consumer Data: Increasingly, businesses of all sizes are able to make strategic decisions better and faster using consumer data.
What does this mean for you? Invest in customer relationship management (CRM) software to analyze your relationships with your clients and utilize feedback surveys like Survey Monkey to gain greater insight into what pet owners want, how they feel about the services you provide, what you're doing that's working and what you need to change.
Localization: Think locally – it's not just good for the environment, it's good for your veterinary practice too.
What does this mean for you? Align your veterinary hospital with local events and causes and make your specific geographic location part of your brand identity. Tap into the local pride that pet owners feel and make your veterinary hospital brand a reflection of the unique characteristics of your area.
Internal Communication: All employees should understand and represent your practice's unique brand identity.
What does this mean for you? If you don't have a mission statement, write one. Talk to your team about the philosophy that guides your practice and what you want your veterinary hospital to mean to the pet owners you serve. Make sure everyone knows how to project the image that pet owners expect. This unified positive messaging among your staff will do amazing things for increasing the positive experience for your clients the minute they walk through your door.
Nothing is static in the digital marketing environment. The medium makes constant change possible, and, as a result, online consumers (pet owners included) now expect businesses will continuously revise their strategies to keep up with the latest methods to attract their attention. You can count on the team at VetNetwork to keep you aware of all the leading-edge digital veterinary marketing wisdom you need to keep your practice growing.
Source: http://www.forbes.com/sites/avidan/2014/11/09/11-marketing-trends-to-watch-for-in-2015/
VetNetwork is a full-service digital and print veterinary marketing company dedicated exclusively to veterinary hospitals and your success. For more information about how we can help you develop a customized marketing strategy that builds your personal connections to the pet owners who depend on you and grows your practice, please give us a call today!
Copyright © VetNetwork, LLC
VetNetwork – Marketing Solutions for Veterinarians and Veterinary Hospitals
http://vetnetwork.com
603-743-4321
No comments yet.
Leave a comment!
« FREE: Holiday Hazards Veterinary Infographic for Your Clients