FREE: Holiday Hazards Veterinary Infographic for Your Clients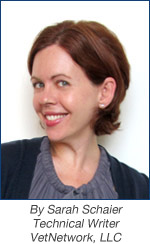 The holidays officially kick off this weekend, and even the most attentive, well-meaning pet owners may be unaware of all the potential dangers the season could have in store. Your practice can help them and bolster your reputation as a reliable source of valuable pet care information and tips by offering VetNetwork's Holiday Hazards veterinary infographic. This eye-catching, informative handout can be easily posted on your Facebook newsfeed, or printed and posted in your reception area, or even handed out for pet owners to take home after appointments. No matter the method of delivery, putting this information in the hands of pet owners can help them – and their furry friends – stay safe during the holiday season.
Infographics are a simple, unique way to help your practice stand out online and offline. Interested in seeing more from VetNetwork's ever-expanding library of engaging, educational veterinary infographics? Visit our website to download them free of charge at your convenience. You can also contact us directly to inquire about adding them to your website at no additional charge for your clients to download and share.
Have a Safe and Happy Thanksgiving from all of us at VetNetwork!
VetNetwork is a full-service digital and print marketing company dedicated exclusively to veterinary hospitals and your success. For more information about how we can help you develop a customized marketing strategy that builds your personal connections to the pet owners who depend on you and grows your practice, please give us a call today!
Copyright © VetNetwork, LLC
VetNetwork – Marketing Solutions for Veterinarians and Veterinary Hospitals
www.vetnetwork.com
603-743-4321
No comments yet.
Leave a comment!